120 years in the future. Our society lies in tatters after a bat fever decimated the population and humanity was forced back to basics. The Blackthorn community has clearly defined social classes, law and order, crime and punishment. But those at the lower end of the social spectrum are causing unrest.
Friend to all, Ryder Swift discovers the Light and encourages the rest of the community to join him in this burgeoning religion. But some members of society see this as sinister…
OK, so first of all, reading about bat fever in the current climate of coronavirus was a litle creepy! I hope this isn't a premonition about our future!
There is a famous saying by Voltaire: If God did not exist, it would be necessary to invent him. I certainly could see how society relies upon a definition of faith to underpin the choices for individuals and the community as a whole. It becomes clear that the form of organised religion is being used to control the population of Blackthorn and prevent civil unrest.
This is thought-provoking as it raises questions about our own religions and how they represent the rich and poor. I can see that some readers may find this controversial and even heretical but I believe in a personal Christianity rather than an organised communal version so I found it fascinating, cynical and clever.
Blackthorn also reminds me of Animal Farm where equality is proposed as the ideal but the reality falls far short and the leaders manipulate the community for their own gains.
The book is written from several viewpoints including Evie the baker, Byron the guard and Lieutenant Hemsley. This allows us to identify with each of the characters but I did find that it took me a little longer than usual to get hooked by the plot. Once the scene is set and the characters defined, the action is non stop and I couldn't put this book down!
Blackthorn works as a standalone book but is actually a sequel to

Tipping Point

and 3 follow up books which I have not read. Terry Tyler has created another captivatingly wonderful yet frightening book!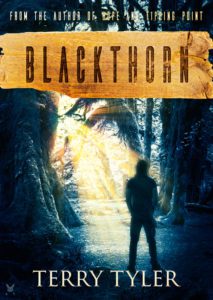 Blackthorn
Publication Date: November 24th, 2019
Genre: Dystopian/ Post-Apocalypse
The UK, year 2139.
One hundred and fifteen years ago, a mysterious virus wiped out ninety-five per cent of humanity.
Blackthorn, the largest settlement in England, rose from the ashes of the devastated old world. It is a troubled city, where the workers live in crude shacks, and make do with the worst of everything.
It is a city of violent divisions, crime, and an over-populated jail block, until a charismatic traveller has a miraculous vision, and promises to bring hope back to the people's lives.
Blackthorn falls under Ryder Swift's spell, and the most devoted of all is the governor's loyal servant, Lieutenant August Hemsley.
Twenty-one-year-old Evie has lived her whole life in the shacks. She and disillusioned guard Byron Lewis are two of a minority who have doubts about Ryder's message. Can they stand against the beliefs of an entire city?
About the Author
Terry Tyler is the author of twenty books available from Amazon, the latest being 'Blackthorn', set in a post apocalyptic England, 115 years in the future. Proud to be independently published, Terry is an avid reader and book reviewer, and a member of Rosie Amber's Book Review Team.
Terry is a Walking Dead addict, and has a great interest in history (particularly 14th-17th century), and sociological/cultural/anthropological stuff, generally. She loves South Park, Netflix, autumn and winter, and going for long walks in quiet places where there are lots of trees. She lives in the north east of England with her husband.
Terry also has a blog post featuring Blackthorn should you like to read more about it!