I approached this book with a little trepidation as the previous book that I'd read from Terry Tyler was absolutely superb (see my review of Hope).
Could Tipping Point live up to my expectations…?
YES!
The arrival of a deadly disease is spreadng across the world. Some have been vaccinated but most are doomed. Vicky's lover Dex is part of a secret group, trying to gather intelligence prior to the outbreak. He leaves Vicky and her daughter Vicky with supplies and then goes off to a secret meeting but can't return before their town is cordoned off and put in quarantine, allegedly to prevent the spread of disease.
Tipping Point is set in the very near future, just 4 years away. It feels very real and believable which ramps up the tension and anticipation for the reader.
The majority of the book is written from Vicky's first person viewpoint which makes us like her for her vulnerability and humanity. Her actions are completely plausible as are her emotional reactions to the events which unfold in the book.
There is also humour in Tipping Point at the expense of characters who don't want to give up in face of the situation (sneering at scant food options and snobbery over clothes shops, for example). The best and worst of humanity is showcased within the pages of this book, and the potential 'what ifs' of how we would respond to the situation drives the reader's enjoyment of Terry Tyler's excellent plot.
I didn't realise that this is the first in a series (all of which have been published) so now need to hunt down the rest! It does end sufficiently with hope and a plan for the future that you don't need to read on but I guarantee you will want to find out more too!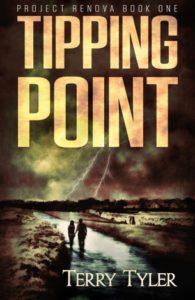 Tipping Point (Project Renova #1)
Publishing Date: September 2018
Genre: Post-Apocalyptic Thriller
Review Period: October 2019 to January 2020
'I didn't know danger was floating behind us on the breeze as we walked along the beach, seeping in through the windows of our picture postcard life.'
The year is 2024. A new social networking site bursts onto the scene. Private Life promises total privacy, with freebies and financial incentives for all. Across the world, a record number of users sign up.
A deadly virus is discovered in a little known African province, and it's spreading—fast. The UK announces a countrywide vaccination programme. Members of underground group Unicorn believe the disease to be man-made, and that the people are being fed lies driven by a vast conspiracy.
Vicky Keating's boyfriend, Dex, is working for Unicorn over two hundred miles away when the first UK outbreak is detected in her home town of Shipden, on the Norfolk coast. The town is placed under military controlled quarantine and, despite official assurances that there is no need for panic, within days the virus is unstoppable.
In London, Travis begins to question the nature of the top secret data analysis project he is working on, while in Newcastle there are scores to be settled…
About the Author
Terry Tyler is the author of nineteen books available from Amazon, the latest being 'Hope', a dystopian, psychological drama set in the UK, a decade into the future. She is currently at work on 'Blackthorn', a post-apocalyptic stand-alone story set in her fictional city of the same name. Proud to be independently published, Terry is an avid reader and book reviewer, and a member of Rosie Amber's Book Review Team.
Terry is a Walking Dead addict, and has a great interest in history (particularly 14th-17th century), and sociological/cultural/anthropological stuff, generally. She loves South Park, Netflix, autumn and winter, and going for long walks in quiet places where there are lots of trees. She lives in the north east of England with her husband.