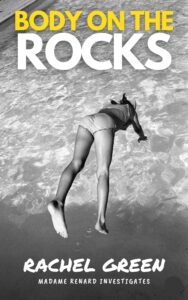 Newly widowed Margot Renard has moved to live by the sea in southern France. Her quiet life is disturbed by the discovery of two bodies of immigrants. Margot is determined to find justice but finds herself battling with the local police and in danger from traffickers…
Body on the Rocks is an amateur sleuth murder mystery with a gritty gang dimension. The victims take second place to the development of Margot as the main character and the gang as more than merely violent thugs.
Margot is a strong willed woman and aims to fight injustice following the unprovoked and senseless murder of her husband. Her acerbic tongue is witty rather than cruel and she quickly develops a friendship with widower Raul after he almost injures her in his boat. Together they seek answers for the deaths of the immigrant pair.
Margot finds herself in conflict with the local police: the captain is a jobsworth who rejects her concerns and dismisses the call to action. Infuriated, she takes matters into her own hands. In the second half of the book, Margot is in danger and is forced to take action to find answers as well as protect her friend.
The plot is reasonably fast paced as Margot embarks on her investigation. There is very little French in the book despite the setting and characters. Margot is half English which explains the use of English phrases.
Body on the Rocks is an enjoyable murder mystery with a likeable lead character and I look forward to reading more of Margot's future adventures.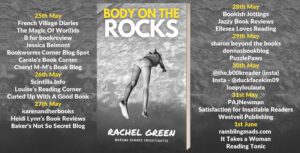 Body on the Rocks
Mourning the death of her police inspector husband, Margot Renard moves to a small seaside town in the south of France. But when the body of a small boy washes up on a beach, Margot is drawn into a dangerous world of drug smugglers and people trafficking, and forced to cross paths with two feuding gangsters.
Purchase Links

Author Bio – Rachel Green is the pen name of a writer from the UK. Rachel has twice been longlisted for both the Bath Novel Award and the BPA First Novel Award. She has also been on the shortlist for the Capital Crime New Voices Award. Rachel lives in a tiny village in England, but travels frequently to the south of France where the stories from the Madame Renard Investigates series are set.