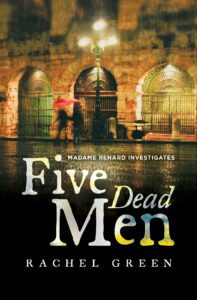 A cold case with five dead men, none of them have ever been identified. Amateur sleuth Margot Renard is asked by a friend to investigate and she heads off to seek the truth.
Five Dead Men is the second book to feature Margot and I have previously reviewed the first book, Body on the Rocks.
Margot is invited to investigate and receives help from the local police officer Alia. I really liked the dynamic between the two women. Alia is following in her father's footsteps but this leaves her in his shadow. She wants to spread her wings and possibly change career while Margot supports her by encouraging her confidence.
There are really only a couple of suspects so the emphasis of the plot is on uncovering the truth and finding evidence. There is a grittiness to the case as Margot finds a connection to a cannabis club in Barcelona. This creates added drama to the plot as the cold case warms up!
I felt that Margot was frequently in danger as the plot progresses and the tension increased. There is little graphic violence or forensic detail as the deaths occurred in the past, although the final chapters include some attacks as the drama escalates.
Five Dead Men in an enjoyable murder mystery.

Five Dead Men
When the bodies of five men are discovered in a secret vault at the villa Belle Époque, suspicion falls upon the villa's former owner, enigmatic Pascal Deveraux.
Actor, gambler, general good-for-nothing – Pascal has lived a life of privilege and excess. But with no evidence to implicate him in murder, the case goes unsolved.
Called in to investigate the cold case, it's not long before Margot's enquiries re-open old wounds. Aided by policière municipale, Alia Leon, the investigation moves swiftly from the smugglers' trails of the Pyrenees to the cannabis clubs of Barcelona. And it's there, in the dark medieval streets of the city's Gothic Quarter, that someone finds a reason to silence her.
Author Bio – Rachel Green is the pen name of a writer from the UK. Rachel has twice been longlisted for both the Bath Novel Award and the BPA First Novel Award, as well as being on the shortlist for the Capital Crime New Voices Award. Rachel lives in a tiny village in England, but travels frequently to the south of France where the stories from the Madame Renard Investigates series are set
Social Media Links –