The body of a young woman is discovered. She has been strangled and the condition of her body makes identification tricky. DI Bernadette Noel interviews the teenaged boy who discovered the body and meets his 12 year old sister Laura who uploaded details to social media. Shortly afterwards, Laura disappears…
Broken Girls is the second book by Joy Kluver to feature Bernie but I have not read the first. There are references to things which must have occurred in the first book but no direct spoilers.
Bernadette has a few tricky professional relationships to negotiate. DCI Worth is officially leading the investigation and does not give her the free rein she usually enjoys. He calls in DS Anderson to work with Bernie, unaware of the tension between them due a missed date as she was warned off by his ex wife (I'm assuming this was in the previous book).
Bernie is unable to prevent a very natural revulsion at the forensic aspect of being a police officer. She vomits at the crime scene and I found this endearingly human in contrast to the usual objectivity that police characters display.
The police team are working tirelessly to solve the murder case when they are notified that a girl has disappeared. They need to assess if the two cases are linked or if it is just coincidence that they have had contact with the girl days before she went missing. The potential risk to Laura magnifies the tension in the plot as Bernie races to hunt down clues.
Broken Girls is an entertaining crime thriller with a strong lead character. I will definitely be catching up on the first book and looking forward to the next!
MEDIA PACK
Book: Broken Girls
Author: Joy Kluver
Pub Day: July 27th 2021
Buy Links 
About the Book: 
Brambles catch her dress, scratch her legs, pierce her feet. To escape, she'd had no option but to go barefoot. They'd been laughing together a few minutes before, but things can change in the blink of an eye…
The woman is dark-haired and young, judging by the short red dress. Any other signs of her identity have been erased during her long wait to be found, but it's clear she was strangled: this was a passionate and personal murder.
D.I. Bernadette Noel knows that every second counts if she is to catch this killer, but she has no leads – until the discovery that the dead woman's rings match a stolen property report, and the rings' owner mentions Rosa, her missing nanny.
Just when Bernie and her team think they're getting somewhere, a shocking discovery about Rosa – and the news that another young girl has been abducted – changes everything the team thought they knew about the case.
Laura is only twelve, and her parents are beside themselves with worry – but Bernie has an additional fear. Laura's home is right next to the woods where their murder victim was found: are the cases connected?
When Bernie notices similarities between descriptions of the man last seen with Rosa and someone Laura was messaging online, these fears grow stronger. But they still have no clear leads as to the identity of the culprit.
With few options left, and time running out, she makes a desperate plan to trap the predator. But any mistakes will mean another innocent life lost…
A gripping crime thriller with a nail-biting climax. If you like Angela Marsons, Val McDermid or Cara Hunter, you'll love Joy Kluver.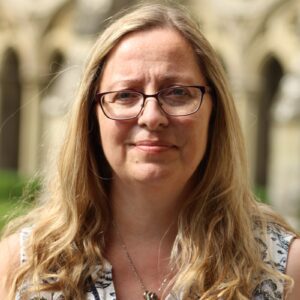 Author Bio
Joy Kluver has been an avid reader and writer since childhood. More recently she's been escaping the madness of motherhood by turning her hand to crime novels. A book blogger, she's also part of the First Monday Crime team and if you've been to any of their events it's likely you've eaten one of her cookies. She also organises author talks for her local library. Joy lives in SW London with her husband and three children. 'Last Seen' is her debut novel and the first book in the DI Bernadette Noel series.
Joy is represented by Anne Williams at the Kate Horden Literary Agency.

Social Media