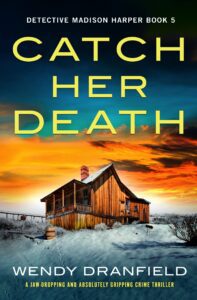 A killer is targeting women with young children. The children are left unharmed but the mothers die violently in front of them. Detective Madison Harper has a new partner to contend with but remains as dedicated as ever to the pursuit of justice.
Catch Her Death is the 5th book to feature Madison Harper. She has been on a pretty big life journey. So has Nate with whom I was eager for their friendship to blossom into romance.
Mothers are being killed in front of their children. The hook into the plot is instant and emotive as we think of the innocent children witnessing something so brutal and tragic. Mixed into this are the searing emotional responses of the families discovering the death of a loved one and anticipating the trauma of the children.
Madison has a new professional relationship to negotiate. Adams rubs her up the wrong way and their partnership gets off to a very rocky start. Meanwhile her son and Nate have new career prospects as a PI/lawyer but this also has a tension created by an overtone of danger.
The plot is quite fast moving and carefully mixes the personal and professional realms of Madison and the other male characters. Madison's father moves to centre stage as it becomes clear that an old case may have a direct link to the present day.
Catch Her Death is an enjoyable crime and detective thriller.
I have previously reviewed Cry For Help and Little Girl Taken (books 2 and 3 in the series).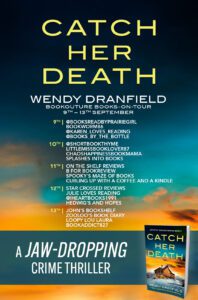 Catch Her Death: A jaw-dropping and absolutely gripping crime thriller (Detective Madison Harper Book 5)
"Mommy, wake-up," he cries, pulling at her beautiful blonde hair. She's silent, and her skin is deathly white. Tears roll down his cheeks as he realizes something is very wrong…
As snow falls on the small town of Lost Creek, Colorado, a three-year-old boy is found playing quietly in his car seat, his mother, cold as ice, slumped against the steering wheel in front. Tearing herself away from reconnecting with her special agent father who abandoned her for his career, Detective Madison Harper is haunted by the fear in the boy's sky-blue eyes, and vows to find justice for this innocent child, left motherless just days before Christmas.
Madison works around the clock on her only clue: a perfect circle of clean glass found on the car's rear window. But she's stopped in her tracks the moment another mother is found dead outside a church during Midnight Mass, her young boy left sucking his thumb on the frozen ground beside her. It can't be a coincidence.
The need to spare the children might hint to the suspect being a woman, but the deeper Madison digs, the closer she gets to a serial killer her own father spent a lifetime chasing. Has the killer followed her father here? Could Madison, single mother to a son herself, be next?
As a blizzard closes in, wreaking havoc on the investigation, Madison hits the same dead ends her father did all those years ago. But when her closest friend goes missing, Madison must dive into the mind of this twisted soul and risk it all to stop another heart-shattering tragedy. But will she make it in time?
An absolutely gripping read that will get your pulse pounding! Perfect for fans of Lisa Regan, Melinda Leigh and Kendra Elliot.
About Wendy Dranfield
Wendy is the bestselling author of the Detective Madison Harper crime series.
She is a former coroner's assistant turned crime writer who writes a mixture of standalone thrillers, crime series and short stories. Some of her books have been shortlisted for various writing competitions and awards, including the Mslexia novel writing competition and the International Thriller Writer Awards.
You can find more information on her website: wendydranfield.co.uk
Author social media
Instagram: @wendy_dranfield