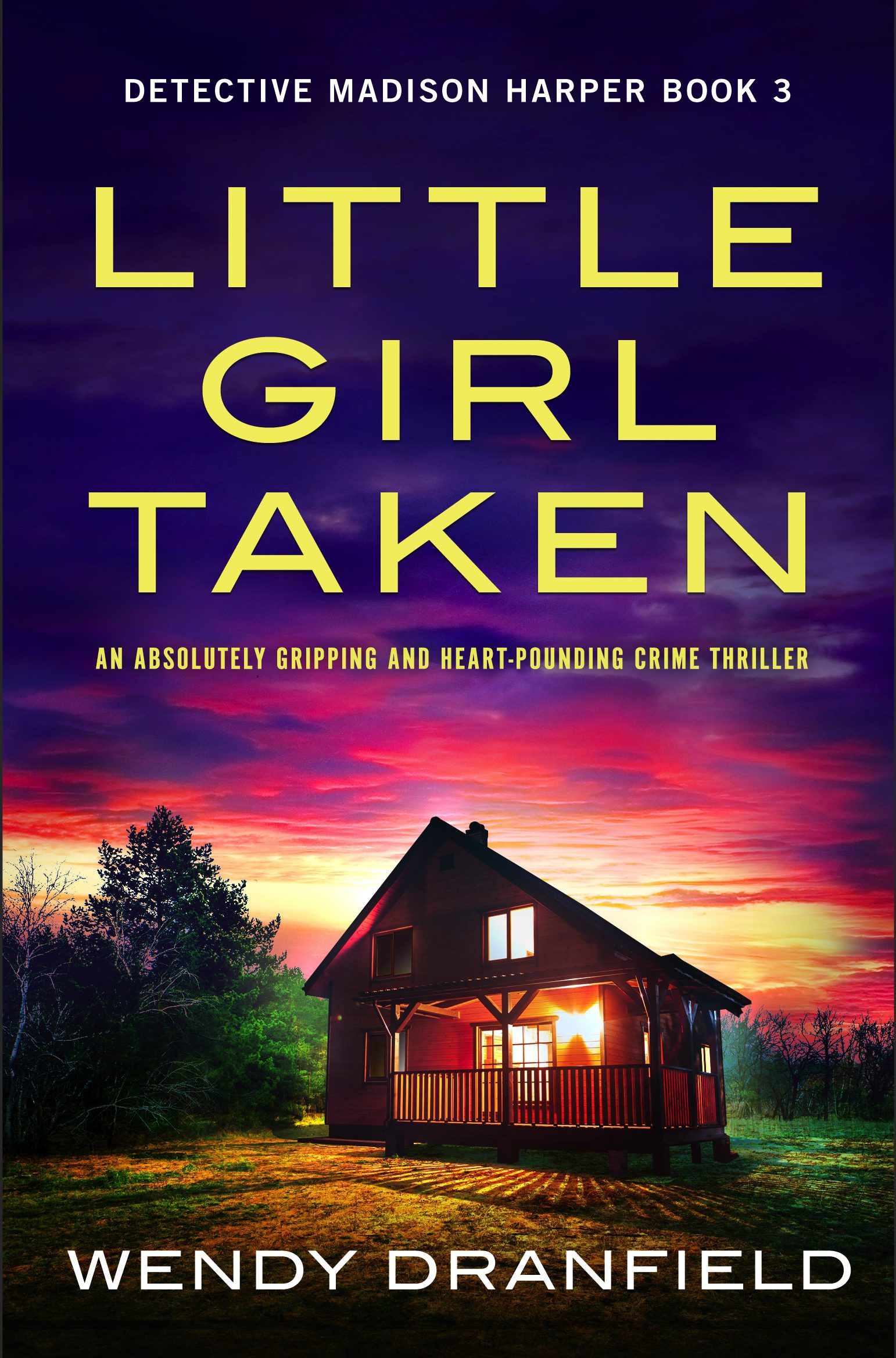 TRIGGER WARNING: this book deals with teen suicide and rape
Detective Madison Harper is on her way to her first day back as a cop after her conviction and imprisonment for murder when she discovers a crashed car with a baby on the backseat. There is blood in the front seat but no sign of the baby's mother. A frantic search ensues but more than one person disappeared that night…
Little Girl Taken is the third book by Wendy Dranfield to feature Madison Harper (I have previously reviewed the second book in the series, Cry For Help).
Madison is anxious about her return to policing but doesn't have time to dwell on her emotions as she launches straight into a case. Her search for the baby's mother discovers links with a past crime and a novelist. Madison's personal and professional lives blur as her friend Nate Monroe is again targeted by his nemesis. Her boss wants her to arrest Nate but her loyalty is split so she helps him as much as she can. She also has to deal with working alongside the detective who arrested her.
Meanwhile, Madison is struggling to cope with her reunion with her son Owen after her years in prsion. Her bitterness towards the social worker is compounded when the woman is involved in trying to foster the baby from the crash. Madison is a curious mix of vulnerable and feisty that makes her a more relatable character.
The book begins with two girls committing suicide and it takes a while before the connection between this event and the main plot is established. There are some references to rape and descriptions of murder victims but these are not graphic. It is the emotional repercussions that are fully described and engage with the reader. The story arc for Nate concerning his murdered girlfriend does not conclude although he does find some resolution.
Little Girl Taken is a gripping, race against time thriller, with vulnerable yet determined lead characters.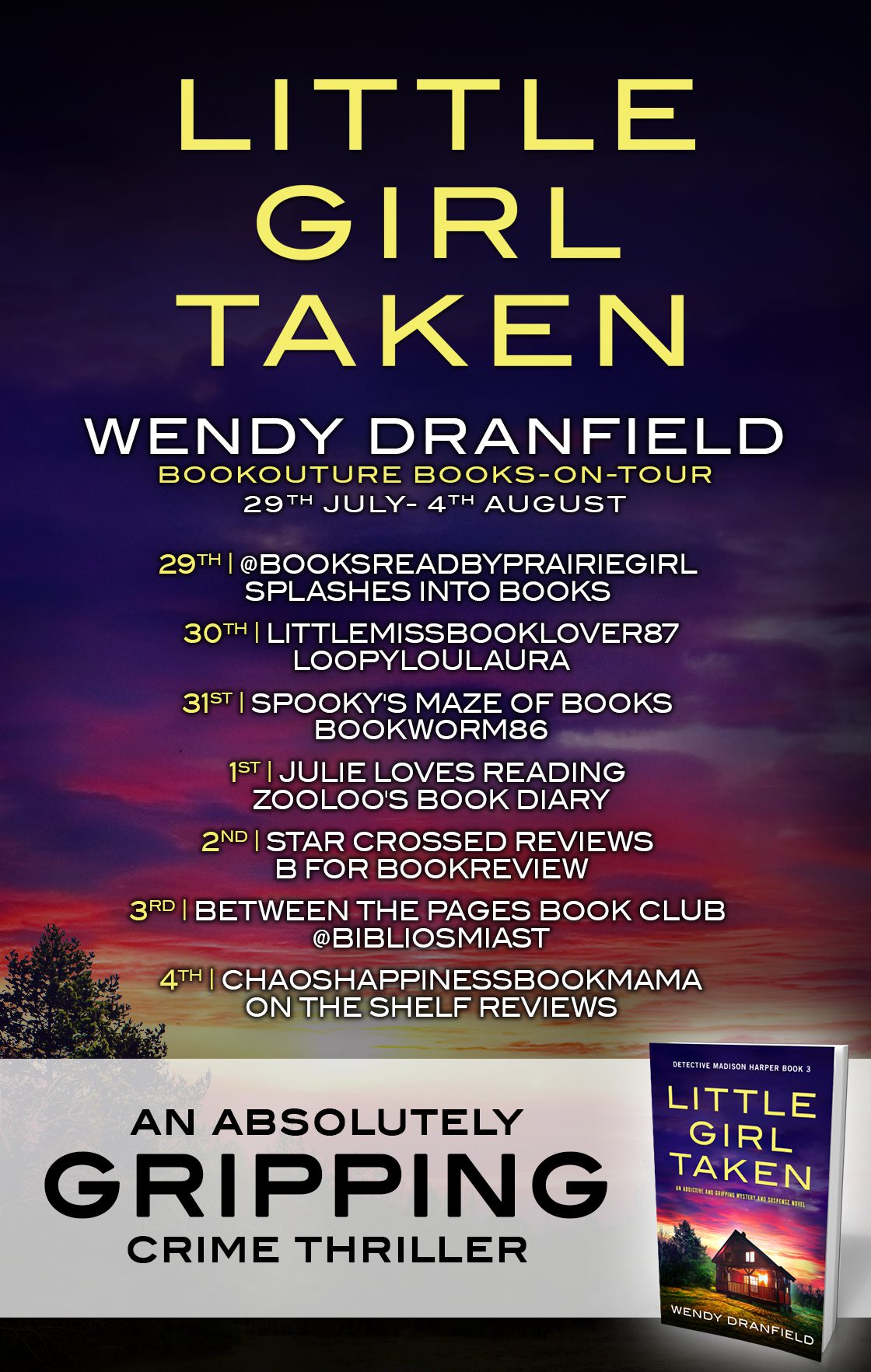 MEDIA PACK
Book: Little Girl Taken 
Author: Wendy Dranfield 
Pub Day: July 29th 2021
Buy Link:
About the Book: 
Rain rattles through the trees as she leans into the car, careful not to touch anything. Two pretty blue eyes stare back through the dark, wide with relief, or maybe fear. A baby girl, wrapped up in a pink snowsuit, reaches out a tiny hand. Her mother is nowhere to be found…
An abandoned baby is the last thing Detective Madison Harper expects to find as she drives to her first day back at work since the case that ripped her life apart. But as she cradles the shivering child close, all her instincts tell her there's something more sinister at play. Then she finds a lone sneaker down a muddy trail nearby, the laces spattered with blood…
In a town as small as Lost Creek, Colorado, the baby and the shoe are quickly identified as belonging to Kacie Larson, a waitress at the local diner who quietly stashed away her tips to make a better life for her daughter. A mother herself, Madison can't believe that Kacie would just abandon her child, but she also can't convince her new team. Not for the first time, Madison feels she must go it alone to get the job done.
But when a body is pulled from a nearby lake, and it's not Kacie, the case takes an agonizing turn. Is this missing mother really who she says she is? Is there a chance she's still alive? Madison barely has time to think before the sweet little girl she rescued is snatched on a crowded street. Gone, in the blink of an eye.
To break this case and earn her place back on the force, Madison must learn to trust her team, and herself again—and fast. If she doesn't find this twisted individual in time, a little girl could die…
A pulse-pounding, absolutely gripping and totally addictive page-turner that will have you racing through the pages and reeling at the twists. Perfect for fans of Melinda Leigh, Lisa Regan and Kendra Elliot, you'll be sleeping with the lights on!
Author Bio
Wendy is a former coroner's assistant turned crime writer who lives in the UK with her husband and 3 cats.
Her first novel (The Girl Who Died) was longlisted for the Mslexia Novel Competition. Since then she has written two crime series – one follows Officer Dean Matheson on his quest to make detective, and the other is her current series which follows Detective Madison Harper as she tries to reclaim her life after spending six years in prison for a murder she didn't commit.
As well as crime novels Wendy also has short stories published in various anthologies in the UK and the US, and she has been shortlisted and longlisted for various writing competitions.
Wendy's social media:
Website: https://wendydranfield.co.uk/
Twitter: @WendyDranfield
Facebook: Wendy Dranfield Author
Pinterest: Wendy Dranfield
Instagram: Wendy Dranfield Author