TRIGGER WARNING: Child Behind the Wall contains graphic descriptions of violence and murder including acts against children.
Police are called to a burglary but find the thief dead with a mad woman standing over him, wearing his face. She attacks officers but is eventually subdued. Inside the house are the dismembered body parts of children.
Ray Paterson is a rich man but still a dedicated cop. He has an unlikely alliance with brash John Clocks. Together they must try to get justice for the victims and prevent any more atrocities…
I was completely drawn into this book from the first page. The action begins straightaway and doesn't let up at all. The full extent of the remains found in the house and the trauma they must have endured is horrific and seriously turned my stomach which hasn't happened for a long time.
The two lead detectives are brilliant characters but very OTT. I found their relationship and dialogue entertaining and funny but not particularly realistic as it was so extreme. They continually find themselves at odds with their superior officers, working by instinct rather than following the rules.
There is a lot of swearing, particularly from Clocks but it is in keeping with his character and the horrendous sights he has seen. The book also contains plenty of innuendo and dark humour which frequently borders on being offensive. However, the characters are so likeable that I found it refreshing to see their antics.
This is the 7th book to feature this duo but I have not read any of the previous books in the series. It works well as a stand alone novel with occasional references to events in the past which do contain spoilers.
It seems strange to say that such a gruesome book is enjoyable but it was! The plot is delivered at break neck speed throughout, and Child Behind The Wall really is a gripping book.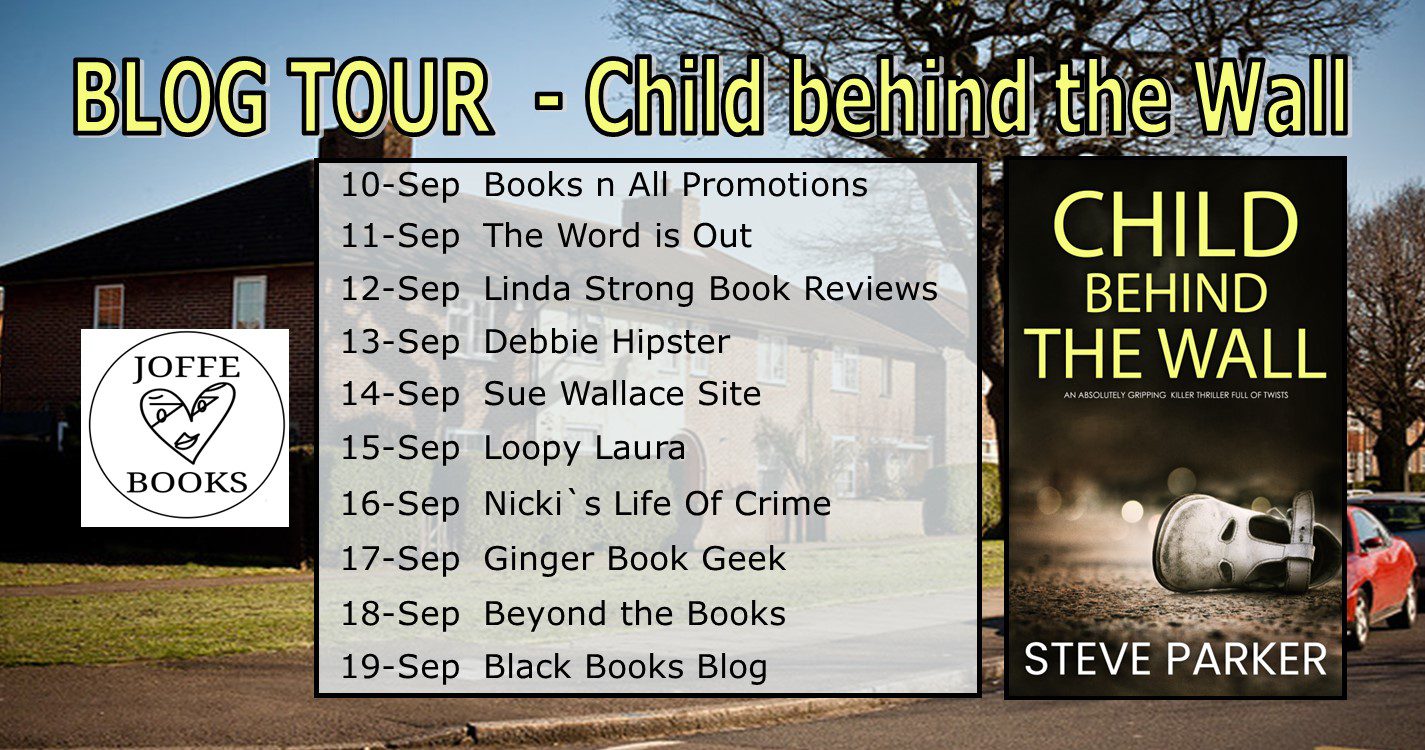 CHILD BEHIND THE WALL (Detective Ray Paterson #7) by Steve Parker
Discover a crime thriller full of shocking twists by one of the most exciting new authors you'll read this year.
YOU WON'T WANT TO PUT THIS DOWN, PAGE AFTER PAGE OF ACTION AND CLIFFHANGERS. . .
4 a.m. on the outskirts of London
A police squad descend swiftly on a house, eager to exploit the rare opportunity of catching a burglar in the act.
Nothing could have prepared them for what they find.
From inside a room on the ground floor, comes the eerie sound of a woman singing, 'the childmaker . . . the childmaker . . . beware the childmaker'. 
Four officers break down the door to enter a darkened room. Their flashlights illuminate the body of a man with a knife in his chest and a bloody mess where his face should be.
Nearby, stands a small, thin woman. In her hand is a kitchen knife . . .
By the time, Detectives Ray Paterson and Johnny Clocks arrive at the scene, there is carnage.
But what is bricked up behind the wall is far, far worse.
A RACE-AGAINST-TIME THRILLER WHICH WILL HAVE YOU TOTALLY ADDICTED.
This is the sixth in a series of action-packed, edge-of-your-seat crime thrillers, with an ending that will have your heart in your mouth.
Perfect for fans of Kimberley Chambers, Damien Boyd, Rachel Abbott, Patricia Gibney or Martina Cole.
What readers are saying about STEVE PARKER'S BOOKS
"A must read for all crime thriller fans." Viv
"A fast-moving action-packed thriller which will keep you enthralled from page one."
"Another gripping, fast-paced and twisted caper for the most unorthodox police duo in UK fiction." Donna
"Loved the book, Clocks makes me laugh out loud." Aileen
Detective Superintendent Ray Paterson is a young and (thanks to family money) wealthy womaniser, separated from his model wife and tipped to be the youngest ever commissioner of police. He knows he's weak when it comes to practical policing and struggles to find a place among his peers, desperate to be a good policeman and not just a 'climber'.
Detective Inspector Johnny Clocks is a foul-mouthed, working-class officer. He grew up surrounded by rogues and villains to become a first-class thief taker with the Met police. However, his childish attitude has short-circuited his career and he spends his days antagonising as many people as he can.
DETECTIVE RAY PATERSON
Book 1: THEIR LAST WORDS
Book 2: THE LOST CHILDREN
Book 3: THE BURNING MEN
Book 4: YOU CAN'T HIDE
Book 5: THEIR DYING BREATH
Book 6: CHILD BEHIND THE WALL
About the author:
Steve Parker was born and raised in South East London (Camberwell and Peckham). At age twenty-one he joined the Metropolitan Police where he served for twenty years in numerous high profile squads before being pensioned out with a serious back injury.
Thankfully, he was blessed with a complete lack of DIY skills so was legitimately able to get away with swanning around the house doing bugger all, all day long. Finding himself with plenty of spare time and a deep desire to never work for anyone again, he dug out an old screenplay he'd written when he was still a policeman and set himself a challenge to turn it into a book which eventually became his debut novel 'Their Last Words'.
FaceBook: MrParkerspen
Twitter: @mrparkerspen