Ailsa has never left the small Scottish island where she grew up. Now she has her mother's old job and is raising her own son Kyle. Her world turns upside down when Jonah returns to the island after 11 years: the first time he has been back since his brother died. Can they form a tentative friendship again so will the past continue to haunt them?
Childhood Sweetheart is a domestic drama novel with hints of psychological thriller, set on a remote Scottish island.
The book is written mainly from Ailsa and Jonah's perspectives. Some chapters are set in the past to show us what life was like for the pair growing up. It demonstrates the state of their relationship and the importance it had for them. Both main characters are haunted by the past and the loss of Jonah's brother Callum.
There is a lot of high emotion and tension right from the beginning. Callum's drowning split up the main pair but they have never forgotten each other. Their lives have been significantly affected by their past experiences and both feel that theynever reached their potential. Ailsa has the constant worry of dealing with the needs of her autistic son and there is a question mark over his father's identity.
The pace of the book is slow to begin with, setting the scene and establishing the characters. It also provides the reader with anticipation with plot development hints amongst the uneasy atmosphere. There are several twists as the narrative progresses and the mystery and suspense elements are maintained until the end.
Childhood Sweetheart had plenty of drama and twists, and I liked the two main characters, wanting them to find closure.

Book Description:
Bang. Bang. Bang. I jump as the knocks on the window crash above the roaring wind outside. Who could it be, at this late hour? I open the curtains and peer outside. 'Hello?' But the dark, the rain and the empty lane are all I see.
It's been eleven years since I last saw Jonah, after his brother died that stormy summer night. And now, without warning, he's back, living in his old house next door just like old times, on the remote Scottish island that is home. Where I used to imagine we'd stay, together, forever, sharing our lives and our secrets as we always had. But that was before.
Jonah's not the sweet boy I once knew. His mood is changeable, his behaviour unstable, our brief conversations are forced and awkward. And then the knocks on my window begin. It can only be him, but why, and what does he want? I used to love him. Now I don't even want to invite him in.
Because after all these years, I see our childhood secrets, the ones we swore never to reveal, in a newly terrifying light. Was his brother's death truly an accident? Could Jonah's secrets have been worth killing for? And how safe am I now, on this isolated island, with the man I used to love…?
A totally addictive and twisty psychological thriller with a jaw-dropping twist. Anyone who loves The Woman in the Window, The Wife Between Us and The Housemaid won't beable to put Childhood Sweetheart down!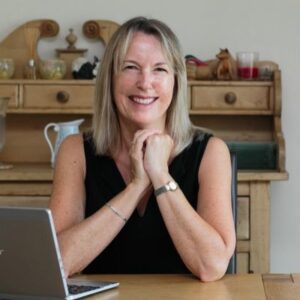 Author Bio:
Wendy Clarke was a teacher until the small primary school where she worked closed down. Now she is a writer of psychological suspense but is also well known for her short stories and serials which regularly appear in national women's magazines.
Wendy has two children and three step-children and lives with her husband, cat and step-dog in Sussex. When not writing, she is usually indulging in her passion for dancing, singing or watching any programme that involves food!
Buy Link:
You can sign up for all the best Bookouture deals you'll love at: http://ow.ly/Fkiz30lnzdo