Book blurb:
Meet Daisy, Lily, Rose, Buttercup, Bluebell, and Poppy. These quirky hens are a delight to know. Each with their own unique character, they will stimulate the imagination of children and encourage them to learn about friendship and behaviour. Children and adults will delight in the Coop Chaos book series by Alyson Oliver and Derek Maguire. In this book, Morning Mystery, the hens wake-up and discover something unusual. What is it? What is happening? The hens look to clever Poppy for an answer; however, will mischievous Daisy be the first to solve the mystery?

Our review
Morning Mystery is a warm and gentle book for young children. The hens on the allotment wake up one wintry morning to discover a strange sound on the roof and try to figure out what is going on.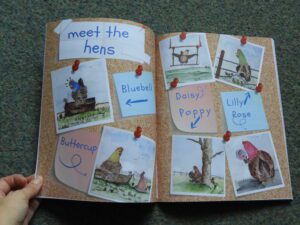 Each hen has a distinct colour on their head to help identify them and this is shown on the first pages. I like that the story is based on the author's observations of her own hens and their various personalities. The illustrations are quite realistic but the use of colour and personality clearly set out the different characters.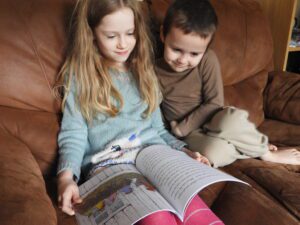 The story has more text than most picture books and the simple language will give emerging readers confidence to tackle longer length books. My children enjoyed reading this together. Zach aged 4 can already read but is growing in competence and fluency.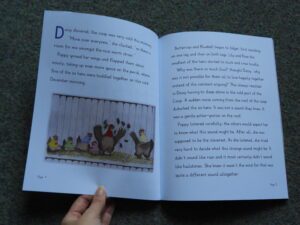 The plot is simple but allows children to feel that 'aha' moment when they realise what the mystery is and then wait for the hens to learn the truth as well. I think it is clever that children can use their knowledge of the world to make sense of the mystery themselves. The illustrations clearly show the plot developments and I believe the natural style encourages children to get engaged with the events.
Morning Mystery was an enjoyable introduction to the hens and I look forward to seeing what adventures they have next…