Robyn is 12 and lives near Bletchley Park. As war breaks out, strange things are happening on the site so she is excited to get the opportunity to work there. She quickly settles into caring for the carrier pigeons but begins to suspect that there are dangerous secrets at Bletchley Park…
Having recently read some books about Bletchley Park during WW2, I was interested to read a book from a child's perspective. I Spy begins in 1939 as war is declared and the park begins operations. This book is aimed at children aged 9-12.
Robyn is determined and feisty. She feels frustrated by her age and her gender so is keen to prove herself. However she is also naive and this makes her vulnerable as she takes risks to find out the truth at Bletchley Park. She is helped by her friends Ned and Mary and together they explore the site looking for clues. I enjoyed the premise of the book but I'm not convinced it is historically accurate as I don't think children were on site and forced to sign the official secrets act.
Robyn shows her gentler side as she cares for the carrier pigeons, yet she is also fiercely protective of them. There is plenty of drama as bombs fall, pigeons are injured, and the children's explorations lead them into danger. I liked the inclusion of real people that worked at Bletchley Park such as Alan Turing and hope the book inspires young people to do more research on WW2 and even visit the museum.
I Spy is an enjoyable children's book with a strong lead character.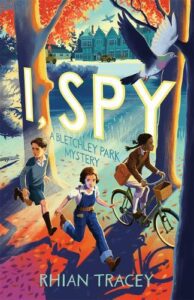 I Spy book blurb:
Twelve-year-old Robyn has grown up in Bletchley Park, where her father works as a driver. When she's not at school, there's nothing she likes more than helping her dad in the garages.
Then the war begins and everything at Bletchley changes.
Robyn is assigned to help with the carrier pigeons that take messages to the Allies. But first, she must sign the Official Secrets Act and is ordered not to leave the grounds of the park. While Bletchley is buzzing with people recruited for the war effort and all eyes are on the skies, Robyn becomes convinced that there's something sinister going on within Bletchley Park itself.
Together with her friends Mary and Ned, Robyn resolves to uncover the enemy in their midst . . .
About the author: