Long golden hair but not a fan of the hairbrush or comb… Can a magic brush and steely determination help Princess No Knots keep her crown?
Princess No Knots is a lovely rhyming book about a little girl who doesn't like brushing her hair. She is given an ultimatum by her father…
This scenario is very familiar to me as Anya hates having her hair washed and combed. Many times have I threatened her with getting it cut short so that it is more managable, just like the king in this story. Parents and children will both be able to identify with the plot and characters of the story.
The book is beautifully illustrated by Matt Richards and the text and pictures work well together. I liked the night time pictures in black and white and thought they were very effective.
Princess No Knots is aimed at any child with long hair but I can imagine it appealing most to little girls (and their parents!)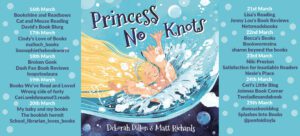 Book Blurb: Princess No Knots
Princess No Knots LOVES her long golden hair as much as she LOVES her bath time, but she does NOT love having it brushed. When her flowing locks end up in knots, the King tells her they will have to be cut and takes away her crown. Enter a world of determination, sprinkled with a small dose of magic, to find out if the strong-willed Princess finds a way to get back her crown, keep her name and save the hair she so loves. A must read rhyming picture book for any parent who struggles with the dreaded 'hair wash' night! Available on amazon.co.uk.

Author Bio –
Deborah Dillon's love of books, poems and story telling stems from her Granddad Jim who always used to make up stories at bedtime when she was young. Every story would take her to crazy worlds of adventure and friendship, each story sprinkled with a tiny bit of determination.
Since having children of her own Deborah has continued this family tradition but rather than keeping all the stories in her head, she decided to write them down. As her children were growing up she was inspired to write about whatever obstacles or challenges they, or their friends, faced then overcame.
Deborah is a firm believer that something magical happens when you read a book together.
Social Media Links –