Cold Heart Creek is the seventh book from author Lisa Regan to feature Detective Josie Quinn and her team.
Two bodies are discovered on the county border and there is evidence of a third person who has now vanished. The autopsy reveals the couple were murdered so fears for the unidentified female companion are high.
Next, Josie and her lover and fellow detective Noah find a disoriented and scared woman. However, this is NOT the woman who had been camping with her friends. Instead, it is a woman who went missing 2 years ago and alleges she has been held captive by a hermit.
Josie's investigation into both cases reveals a number of links: could they be coincidence or are the murders, disappearance of one woman and reappearance of another all connected…?
Throughout the book, Josie is haunted by nightmares from her past centred around the abuse she suffered as a child. This has been brought to the fore by her abuser's imminent death and Josie struggles to maintain focus on the case when her heart is torn by hate and fear.
Noah and Josie's romantic relationship brings some welcome warmth to the book and I am relieved that they have found each other at last. Both are strong lead characters but have their vulnerability as seen in this and previous books.
I found the Cold Heart Creek plot gripping as my brain tried to negotiate the twists and turns in the story. The demons that Josie is facing made the book very personal and gave me a powerful emotional connection to her.

Media Pack Info Sheet:
Title:         Cold Heart Creek
Author:     Lisa Regan  
Publication Day: 02/12/19
Buy Links :
Description:
In the stark light of dawn, the young couple are laid out on their backs by the dying campfire, their hands clasped between them. Their eyes are open, but their hearts are cold…
When a park ranger stumbles across the bodies of Valerie and Tyler Yates by a creek in the small town of Denton, Detective Josie Quinn is first on the scene. Still reeling from the news that her abusive mother is dying, Josie suspects this is more than just accidental poisoning, and she's right: someone jammed a crudely carved pendant necklace down Valerie's throat before she died.
Combing the area, Josie's team discover a third sleeping bag indicating there could have been an extra guest around the fire that night. A lucky escape? A missing victim? Or a suspect on the run? Finding this person is the key to the entire investigation…
Trawling the couple's photo albums for clues, Josie can't imagine why anyone might want to harm these smiling, carefree young lovers. Until a face in one of the pictures stops her in her tracks and leads her to a farmhouse hidden deep within the forest – a special place where people go to escape, and to hide. There they meet a young girl with frightened eyes and bandaged wrists who knows more than she is saying. But the next day she's found dead, choked with a matching necklace…
With her mother's life hanging by a thread, Josie has an impossible decision to make. But first she must find the meaning of the pendant and catch this twisted killer before another innocent life is taken. Is she already too late?
An addictive and gripping crime thriller from an Amazon, USA Today and Wall Street Journal bestselling author. Readers who love Robert Dugoni, Angela Marsons and Rachel Caine will be sleeping with the lights on after this rollercoaster of a read.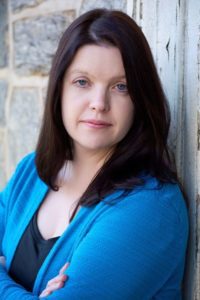 Author Bio:
Lisa Regan is a USA Today, Wall Street Journal bestselling author and an Amazon bestselling crime novelist.  She has a Bachelor's Degree in English and Master of Education Degree from Bloomsburg University.  Lisa is a member of Sisters In Crime, Mystery Writers of America and International Thriller Writers. She lives in Philadelphia with her husband and daughter. Find out more at her website: www.lisaregan.com
Author Social Media Links: