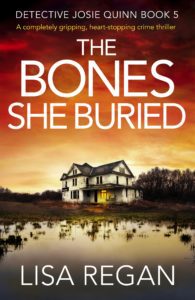 The Bones She Buried is the 5th book to feature Josie Quinn and the second that I have read.
The romantic relationship that Josie and Noah began in the

last book

seems to be going well but then they make a devastating discovery.
They go to Noah's mother's house for a meal and find her dead in the back garden. Murdered.
Their relationship reaches crisis point as Josie tries to investigate the murder but meets opposition from Noah's sister who drives a wedge between them. Can Josie solve the murder and keep the man she loves?
Noah's mum was hiding a secret that got her killed and as Josie investigtes she discovers other murders and disappearances. She needs to explore the past to save other potential victims but her relationship with Noah seems to be falling apart in the process. Josie struggles between her career, wanting to find justice for her lover's mother, and keeping love.
It is always a sign of a good book when you feel emotion for the characters and I got really annoyed with Noah. I couldn't believe the way he acted towards Josie considering he is also in law enforcement.
I'll be perfectly honest: I didn't enjoy this quite as much as the last book. The narrative structure was completely different and the only flashback to a crime was in the prologue so there was no opportunity to see the killer's mindset. It was still an enjoyable read though!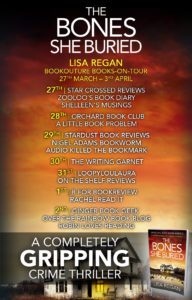 Title:          The Bones She Buried  
Author:     Lisa Regan  
Publication Day: 27/03/2019
Buy Links :
Description:
Josie works until her arms ache, until the paramedics arrive and pull her gently away from the woman's cold, fragile body. Noah's voice cracks beside her as he calls the time of death for his own, beloved mother.

Arriving with her partner Noah for dinner at his family's immaculate countryside home, Detective Josie Quinn is devastated to find Noah's mother, Colette, lying lifeless in the back garden, her mouth clogged with soil.

Searching the house for answers, Josie's team don't know what to make of the rosary beads buried in the dirt near the body, or the hidden file labelled "Drew Pratt", the small town of Denton's most famous missing person.

As she delves deeper into Pratt's case, Josie quickly discovers he had a brother whose body mysteriously washed up on the banks of a river. There's also a diary entry suggesting that Colette may have met him on the last day he was seen alive. Can Josie believe the unthinkable, that a kind old soul like Colette might have been involved in their murders? And, will Josie's new relationship with Noah survive the accusation?

Josie's only hope lies in tracking down Pratt's daughter. But when she arrives at her home to find she's been murdered just minutes before, Josie knows the real killer is one step ahead and won't stop until Colette's secret is buried forever. With many more innocent lives on the line, how deep is Josie prepared dig to reach the truth?

An absolutely unputdownable crime thriller that will have you up all night! If you love Angela Marsons, Robert Dugoni or Rachel Caine you're guaranteed to be hooked from page one.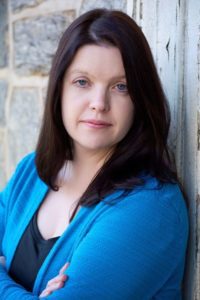 Author Bio:
Lisa Regan is an Amazon bestselling crime novelist.  She has a Bachelor's Degree in English and Master of Education Degree from Bloomsburg University.  She is a member of Sisters In Crime, Mystery Writers of America and International Thriller Writers. She lives in Philadelphia with her husband and daughter. Find out more at her website: www.lisaregan.com
Author Social Media Links: