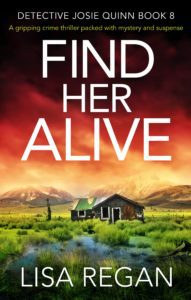 Josie Quinn's sister Trinity has been abducted and human remains are found close to her sister's cabin. The Bone Artist is back, killing again after a break of several years. Josie must race against time to find her sister (Find Her Alive!) but could she actually be the Bone Artist's next victim…?
In tandem with the plot in the present day with Josie searching for her sister, we also see a narrative timeline of a young boy living with domestic abuse. The family situation is uncomfortable to read and the abuse he suffers was difficult to cope with for me as a mother. There is some grisly detail about body decomposition but it is not overwhelmingly nasty. In fact, the abuse was much more upsetting to read and really pulled at the heartstrings.
We see much more of Trinity's personality and background in this book whilst we have previously seen Josie's. There are plenty of references to past cases but this does not detract from Find Her Alive working as a standalone novel.
All of Josie's cases have a personal association, involving her family or friends. This serves to motivate her but I wonder how she would handle a case that does not have such a personal edge. I felt that some of the clues were a bit tenuous and Josie seemed to make huge leaps of logic that I found not particularly credible but were enjoyable to read.
Find Her Alive is a fast paced and action packed thriller with an emotional undertone. This is the 8th Josie Quinn book (I have reviewed Her Final Confession,The Bones She Buried, Cold Heart Creek)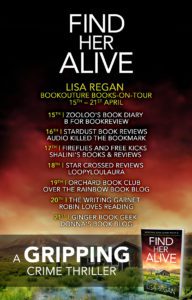 Media Pack Info Sheet:
Title:         Find Her Alive
Author:     Lisa Regan
Publication Day: April 15th 2020
Buy Links :
Description:

Josie treads gently, careful not to disturb the pile of perfect white bones laid out in the grass by her feet. Her voice is little more than a whisper.
"No! Not my sister…"

Detective Josie Quinn hasn't heard from her sister since Trinity stormed out of the house in the heat of an argument three weeks ago. So, when human remains are found at the remote hunting cabin where Trinity was last seen, Josie can only assume the worst.

Gathering her team, Josie feels a surge of relief when the dental records match a different body – that of a missing single mother from a neighboring town. But now Josie's is not the only broken family desperate for answers.

Dusting the crime scene for prints, a name smudged into the side of a nearby car is the first in a trail of clues Trinity left for Josie. In need of a big story to save her journalism career, it seems Josie's sister was attempting to make contact with a dangerous serial killer known for creating sculptures with his victim's bones. And Trinity won't stop until she's found him, even if it means becoming his next masterpiece…

Josie is certain there's a critical clue in the ivory hair comb delivered to Trinity just days before she went missing. But as more bones surface, each set more likely to be Trinity's than the last, time is running out to find her alive. Can Josie's team trust her instincts in a case that is so deeply personal? Can she find her sister without putting other innocent lives in danger?

An unputdownable crime thriller from an Amazon, USA Today and Wall Street Journal bestselling author that will have you sleeping with the light on. This gripping rollercoaster ride is perfect for fans of Angela Marsons, Robert Dugoni and Rachel Caine. Prepare to be totally hooked!

Author Bio:
Lisa Regan is a USA Today, Wall Street Journal bestselling author and Amazon bestselling crime novelist.  She has a bachelor's degree in English and Master of Education Degree from Bloomsburg University.  She is a member of Sisters In Crime, Mystery Writers of America and International Thriller Writers. She lives in Philadelphia with her husband and daughter. Find out more at her website: www.lisaregan.com
Author Social Media Links: