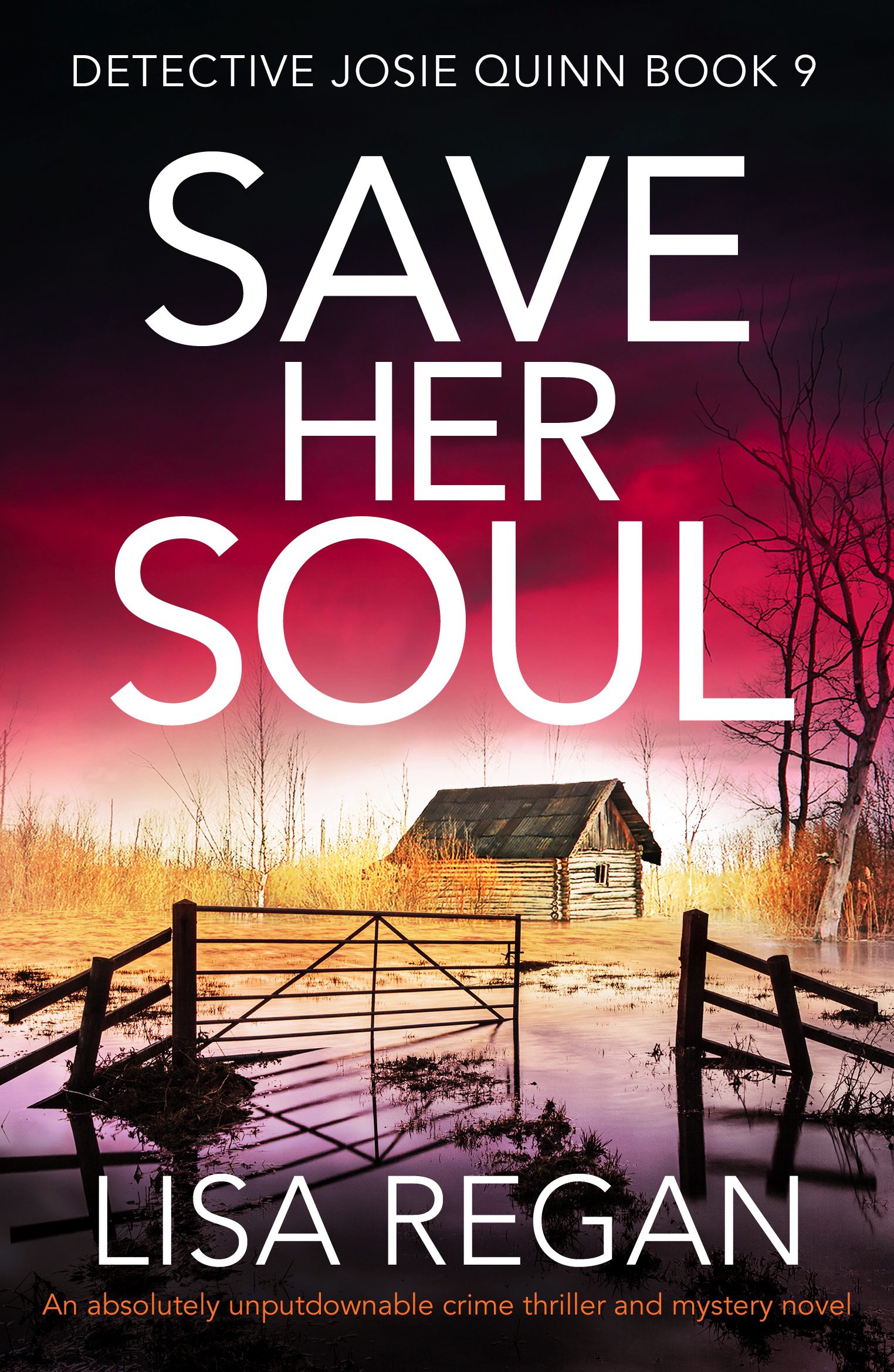 Save Her Soul is book number 9 in Lisa Regan's Detective Josie Quinn series. The town of Denton is underwater due to severe floods and a house washes away to reveal a body buried in its foundations. The victim is a teen that Josie clashed with repeatedly at school. At the autopsy, Josie realises the body is wearing her late husband's jacket: could he have been involved in the murder of her teenage enemy?
This is quite an emotional case for Josie and some of the plot is delivered via flashbacks to Josie's teenage years. Lots of emotions about her late husband Ray are stirred up by his involvement in the case. Things are made more complicated when Josie locks horns with the mayor again as she also shared a shady past with the victim's mother.
There is plenty of drama and danger for Josie and her colleagues as they fight the floods as well as investigate the murder. Josie risks injury and even death several times over the course of the book, thanks in part to her tenacity and sense of duty. Her superiors see her as reckless but we see her as brave and determined.
There are plenty of twists and turns in the plot as witnesses and suspects protect themselves and hinder the case. Josie also faces more heartache about her unhappy childhood and her current family which adds to the pressure she faces over the course of the book.
Save Her Soul is an enjoyable thriller with a healthy dash of emotion to make Josie a character we are rooting for from start to finish. There are some references to other cases but the parts of the past shown in flashback are new for all readers and I think this would work as a stand alone novel.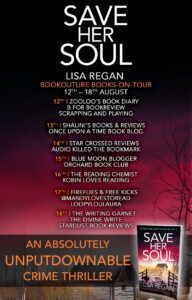 Media P
ack Info Sheet:
Title:         SAVE HER SOUL
Author:     Lisa Regan
Publication Day: AUGUST 12th 2020
Buy Links :
Description:
Josie flinches as she takes in the faded blue sports jacket wrapped around the girl they just pulled from the water. Josie knew someone who'd once owned that jacket. He had died in her arms five years ago.
Heavy rain pours on the small town of Denton causing the riverbanks to break and the body of a young girl to float quietly to the surface. With no crime scene to examine, the odds are against Detective Josie Quinn and her team. Mercifully, the victim's body is perfectly preserved, right down to the baseball patch on the jacket she was wearing. Josie can't hide her devastation—her dead ex-husband, Ray, owned one just like it.
Following the trail back to her high school, Josie identifies the girl as Beverly Urban, a troubled student rumored to have been dating Ray before she left town for good. It looks like a tragic accident until the autopsy reveals a bullet in her head and the heart-breaking secret she was keeping.
Josie visits the salon where Beverly's mother used to work, believing she was at the heart of a terrible scandal around the time her daughter's life was taken. With the Denton wives remaining tight-lipped, Josie's only hope is a secret meet-up with a terrified woman willing to talk. But she is murdered moments before giving Josie crucial information. It's clear that someone is prepared to keep on killing to stop the truth from getting out.
Digging deep into memories of her own past with Ray is the only advantage Josie has on this twisted killer… but at what cost?
Another jaw-dropping crime thriller from an Amazon, USA Today and Wall Street Journal bestselling author that will have you absolutely gripped from page one. Perfect for fans of Angela Marsons, Robert Dugoni and Rachel Caine.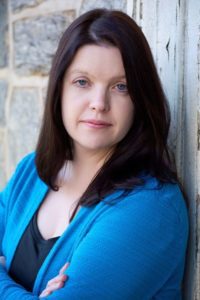 Auth
or Bio:
Lisa Regan is a USA Today, Wall Street Journal bestselling author and Amazon bestselling crime novelist.  She has a bachelor's degree in English and Master of Education Degree from Bloomsburg University.  She is a member of Sisters In Crime, Mystery Writers of America and International Thriller Writers. She lives in Philadelphia with her husband and daughter. Find out more at her website: www.lisaregan.com
Author Social Media Links: