Kat Noad decides to start making some changes in her life, starting with joining a gym. But within an hour she has lost her job and her boyfriend. In her mental turmoil, she is physically unable to leave the gym. Can she soothe her anxiety and turn this into a positive experience?
Come Here Often? is a light hearted and gently comedic look at the serious issue of anxiety and mental health.
Kat appears to be a little vacuous and self absorbed at the beginning of the book. It is gradually revealed that she has been plagued by anxiety since childhood and her beloved dog recently died. Her behaviour at home and work has been erratic and now reached crisis point.
I ended up really liking Kat and her vulnerability. The romance side of the plot is reduced to allow Kat to find her own path and make changes. As someone who suffers with anxiety, I appreciated the exploration of the mental and physical barriers it can create.
The extreme nature of the situation and Kat's reactions are funny but the actual topic of mental health is very serious. I sometimes felt a little awkward because I wasn't sure if I was laughing WITH Kat or AT her.
Come Here Often? is an entertaining book with a great lead character.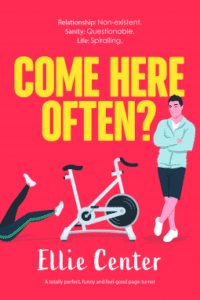 Come Here Often?: A totally perfect, funny and feel-good page-turner
My name is Kat and I have a confession. For the last week, I've been secretly living in the gym.
Let me set the scene for you… It was my first day working out. Ever. My idea of cardio is lifting Dunkin' Donuts, but as if exercising wasn't bad enough, listen to what happened next. In the space of minutes, my boyfriend dumped me over the phone and my boss fired me.
Cue a Code Red panic attack. Now, no matter how hard I try, my anxiety stops me from physically walking out of the door, back into the hot mess of my life.
So now I'm stuck in this health club, spending night after night sleeping on massage tables, escaping security guards and hiding from my ex. Flirting with personal trainer Marcus, who's carved like a Greek god and has a smile that makes my stomach flip-flop, is the silver lining to this craziness.
But what happens if I get caught? Can I finally sort my life out? And how personal is too personal when it comes to personal trainers?
This fresh and funny page-turner is for anyone who has ever lost their spark, struggled with anxiety, or prefers pie and lattes to pilates. Perfect for fans of Beth O'Leary, Emily Henry and Jo Watson.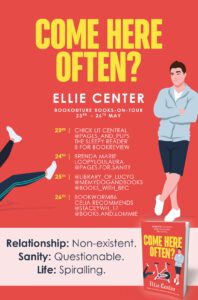 About the author
Ellie Center was born in Savannah, Georgia and raised by a psychiatrist and a psychoanalyst. She studied philosophy in college but eventually went on to become an audiologist. After traveling to Israel and living in a Kibbutz, she moved to Nashville, where she started her own business and also started writing novels, falling in love with the process of putting her imagination down on paper. She writes songs in her spare time and lives with Hannah, her cat and a Lab named Joey.
Author social media
Twitter @EllieCenter