Martha Miller is enjoying her celebrity status as an amateur sleuth and is invited to open a fair in a nearby village. But she soon finds a body and is embroiled in another murder investigation…
Daggers at the Country Fair is the second book to feature Martha Miller and vicar Luke Walker. I have reviewed and enjoyed the first book in the series: Poison at the Village Show. The series is set in the south of England in 1947.
The gently blossoming romantic tension between Martha and Luke continues in this book and is a joy to read. The couple are both united and divided as they investigate but maintain the social norms. With regard to their relationship, there are mentions of gender stereotypes and expected behaviour norms which are outdated by odern standards due to the post war setting.
The case itself definitely involves stereotypes from the time. The victim is a young woman with a dubious reputation and had a string of married lovers. She is blamed while the men are blameless but who would have wanted her dead? This got my hackles up but was appropriate to the era the book is set in. Even Martha notes the discrepancy of the gendered behaviour expectations as she herself faces judgement about her errant husband and her potential new romance with the vicar.
There are plenty of suspects and motives so the plot maintained my interest until the end as I tried to figure out the truth. The range of characters all seem very authentic, committed to self preservation which made them difficult to empathise with and condone their behaviour.
Daggers at the Country Fair is a hugely enjoyable cosy murder mystery and I'm really looking forward to the next book in the series.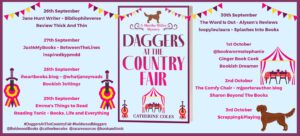 Daggers at the Country Fair
Winteringham Village 1947
As a thank you for her previous brilliant crime solving, amateur sleuth, Martha Miller is guest of honour at the Winteringham Country Fair. However, this time she is looking forward to simply judging dog shows and eating cream teas rather than apprehending a killer!
And Martha is just beginning to enjoy spending quality time with Vicar Luke Walker away from the prying eyes and gossips of her own village, when disaster strikes, and the local teenage femme fatale is found stabbed to death behind the tea tent by Martha's trusted red setter Lizzie!
But who would want to kill such a young girl and why? Someone in the village has secrets to hide and it seems Martha and Luke have another case to solve!
Let the investigation commence!

Catherine Coles writes bestselling cosy mysteries set in the English countryside. Her extremely popular Tommy & Evelyn Christie series is based in North Yorkshire in the 1920's and Catherine herself lives in Hull with her family and two spoiled dogs.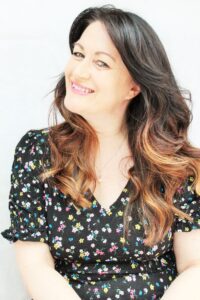 Social Media Links –