This is the third book to feature Tara Thorpe (I have read the first where she is a reporter and makes the decision to change career to join the police, but haven't read the second 🙁 )
In this book, Tara and her colleagues are called upon to investigate the disappearance of artist Luke Cope. A body is discovered but it isn't his! It is his alleged lover, married woman Freya Cross. Did Luke kill her or was her husband involved. And where is Luke now?
I loved the first book, need to read the second book and loved this one too. I had no idea who was responsible for the murder of Freya and the motive behind it. There are lots of suspects and suspicious behaviour to keep the reader guessing until the end.
There is not a lot of gory detail in this book and the focus is on the investigation and relationships between the police officers.
There is a lot of tension in the team as one person is suspended follwing  his behaviour in the second book where he gave out secret information to a journalist. He continues to stir up trouble, hinting that Blake and Tara have a more intimate relationship than they do.
Meanwhile they are struggling to keep their relationship professional for the sake of the case and also because Blake's wife is pregnant (did she deliberately get pregnant to keep Blake and make amends for cheating on him in the past…?)
Tara is a great lead character and a positive role model for women. She won't let her past get in the way of her future although the very end of the book lets us know that her past is coming back to haunt her: can't wait for the next book!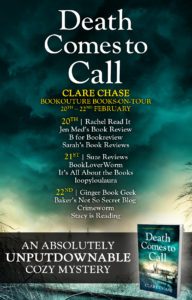 Title:                  Death Comes to Call   
Author:     Clare Chase  
Publication Day: Feb 20th 2019
BUY LINKS:
Description:    
Frost sparkles on the bare winter branches, as night falls over the quiet country lanes bordering the fens. But nestled beneath an ivy-covered bough, a body lies pale in the bright moonlight…
When a promising local artist disappears, the victim's brother begs 
Detective Tara Thorpe
 to take the case. It seems there's no evidence of foul play… he simply disappeared without a trace.
Tara agrees to do some digging… never mind that her unorthodox approach to policing has got a few of her colleagues' backs up. Amongst them is her former supervisor 
Detective Patrick Wilkins
… he's had enough of Tara calling the shots and will do anything to knock her down. She must be careful.
At least she has an ally in their boss, 
Detective Garstin Blake
. He'll always back her hunches. If anything, they work together 
too well
… at least, that's the rumour around the station these days.
When a body of a young woman is found frozen near the fens
, Tara's evidence suddenly becomes key to solving a high-profile murder. Is their missing artist still a victim… or in fact a clever murderer with a deadly plan?
An unputdownable page-turner that will keep you hooked until the very last page!
Author Bio:
Clare Chase writes women sleuth mysteries and recently signed a three-book deal with Bookouture for a new crime series set in Cambridge. The opening book, Murder on the Marshes, published in July 2018. The mystery follows investigative journalist Tara Thorpe as she teams up with Detective Garstin Blake to solve the murder of a young female professor at Cambridge University. The case takes them through the dark underbelly of Cambridge and in to the murky fens that surround the centuries-old city.
After graduating from London University with a degree in English Literature, Clare moved to Cambridge and has lived there ever since. She's fascinated by the city's contrasts and contradictions, which feed into her writing. She's worked in diverse settings – from the 800-year-old University to one of the local prisons – and lived everywhere from the house of a Lord to a slug-infested flat. The terrace she now occupies, with her husband and teenage children, presents a good happy medium.
As well as writing, Clare loves family time, art and architecture, cooking, and of course, reading other people's books.
Clare's debut novel, You Think You Know Me, was shortlisted for the Novelicious Undiscovered Award 2012, and an EPIC award in 2015. It was also chosen as a debut of the month by Lovereading.
You can find Clare's website and blog at www.clarechase.com
Author Social Media Links: