Lady Eleanor Swift is let down by her beau so heads on board the maiden voyage of the Celestiana to New York She witnesses a murder and starts to investgate…
Death On Deck is the 13th book to feature Ellie, her unflappable butler Clifford, and her love interest Hugh. It is not necessary to have read the earlier books as there are no spoilers about previous cases.
Ellie is disappointed that her birthday plans are ruined once again by Hugh's police work. She accepts an offer to travel to New York on a luxury liner but witnesses a murder on the first night. Despite the negative attitude of the crew, she seeks to find the murderer amongst the first class passengers.
As usual, Ellie is supported by her staff especially her butler Clifford. Her character continues to challenge 1930s society's values about class and gender which is refreshing as well as entertaining. There is little violence or detail about the murder and victim so the book is definitely a cosy murder mystery.
Ellie needs to put her wits to the test as she tries to investigate her fellow passengers. Every one of the suspects seems to have hidden secrets or suspicious behaviour so there are plenty of potential motives.
The luxury of the ship, which is beautifully described, is almost obscene and Ellie's social conscience makes her feel uncomfortable about her own privilege. The dialogue is witty especially as Clifford despairs of Ellie's conduct. There is a final chase scene which I loved for the action and tension as well as the detail of the ship's layout.
The ending will delight fans of the series and leave you with a big smile as you wait for the next book…
Death On Deck is a warm and witty cosy murder mystery.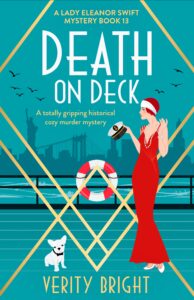 Book Description:
When Lady Swift embarks upon her first luxury cruise she imagines a gilded ballroom, afternoons on deck taking tea and all the delectable food she can eat. But she can't seem to escape from murder…
Lady Eleanor Swift is all set to spend her birthday with her beau, dashing Detective Hugh Seldon, until he calls to cancel on her again at the last minute. What's a girl to do? Pack up her staff and her faithful old bulldog, Gladstone, and head off on a cruise to New York, that's what!
On the stunningly opulent ocean liner Celestiana, Eleanor tries to forget her worries and make the most of her trip. That is, until she sees a man being shot and falling overboard. On closer inspection of the scene, Eleanor literally stumbles over the likely murder weapon. And the nick in the barrel is unmistakeable: this gun belongs to Detective Seldon…
With some discreet digging, Clifford discovers Detective Seldon is aboard the ship on an undercover mission. Eleanor doesn't want to make waves but she's sure that something fishy is going on and he's being framed. To get Seldon off the hook, Eleanor casts her net wide and searches for the real murderer among a sea of suspects including European nobility, Italian opera stars and American nouveau riche. But does the victim's expensive gold ring point to a lavish lifestyle or is it a red herring?
When another passenger is found dead in his first-class cabin, a poisoned whisky glass clutched in his hand, Eleanor realises they are really in hot water. Will the killer be Eleanor's catch of the day, or will she spend her birthday at the bottom of the sea?
A totally charming, unputdownable Golden Age mystery with characters readers will adore. Perfect for fans of Agatha Christie, T.E. Kinsey and Lee Strauss.

Author Bio:
Verity Bright is the pseudonym for a husband-and-wife writing partnership that has spanned a quarter of a century. Starting out writing high-end travel articles and books, they published everything from self-improvement to humour, before embarking on their first historical mystery. They are the authors of the fabulous Lady Eleanor Swift Mystery series, set in the 1920s.
Buy Link:
You can sign up for all the best Bookouture deals you'll love at: http://ow.ly/Fkiz30lnzdo