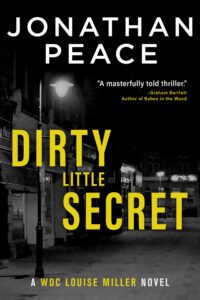 TRIGGER WARNING: this book deals with child murder
Yorkshire in the late 1980s. Louise Miller is preparing to start her new job as a female detective constable when she discovers a murder victim in a phone box. She is instantly on the case, searching for justice for the victim. However she also needs to try to establish herself in a male dominated police culture…
Dirty Little Secret is the first book in a new series that has WDC Louise Miller as its lead character. She is ably supported by a range of male colleagues and proves a welcome friend to the token woman already in the team.
I enjoyed the setting in the 80s. The world seemed simpler and less connected, with a reliance on people rather than technology. However, the smoking, police attitudes and misogyny are elements I'm glad are in reverse now!
The prologue is spooky and the victim is a child. This sets an unpleasant tone to the case and increases the readers' hope that Louise and the team will swiftly solve the murder before anyone else is hurt. The majority of the book is written from the third person perspective of the police team but there are other chapters from the killer's viewpoint which serves to create tension about imminent danger.
Dirty Little Secret is an enjoyable police procedural novel and I look forward to Louise's next case.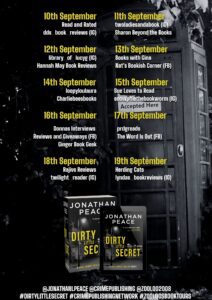 Dirty Little Secret book blurb :-
Ossett, West Yorkshire. March, 1987.
A town of flower shows, Maypole parades and Sunday football games. But behind all the closed doors and drawn curtains are hidden truths and shameful lies.
Discovering the body of a young girl dumped into a phone box at a local beauty spot, WDC Louise Miller's first case as detective in her hometown is made harder by the sexism and misogyny of small-town policing. But her four years on the force in Manchester have prepared her for this and along with ally WPC Elizabeth Hines, the pair work the case together.
As their inquiries uncover the town's hidden secrets, psychologist Karla Hayes offers insights into the troubled psychological problems of the victim, revealing dark truths that could lead to the identity of the killer.
But when a second girl goes missing, Louise realises that some secrets should stay hidden.
Including hers.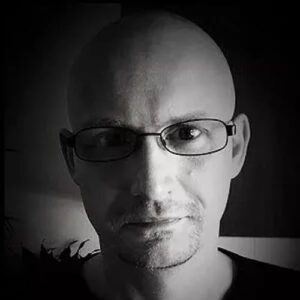 Jonathan Peace is a husband, cat-dad and author of the WDC Louise Miller novels.
​A Yorkshire lad at heart, Jonathan sets his novels in a fictionalised version of his hometown of Ossett during the late '80's and '90's. His first crime novel, DIRTY LITTLE SECRET, book one of the WDC Louise Miller series, landed him the Peter James Bursary from the Crime Writers' Association, resulting in a full membership to the CWA.
He is currently writing the second in the series.