TRIGGER WARNING: this book deals with suicide, self harm and teen death
In the lead up to Christmas 1988 a teen's body is found in the church graveyard. The evidence indicates suicide but WDC Miller and WDC Hines are not convinced…
From Sorrow's Hold is the second book to feature Louise Miller and Elizabeth Hines, police officers in the 1980s. I have previously read and reviewed the first book Dirty Little Secret, however the books can be read as stand alone novels.
Wendy finds her boyfriend James dead in the graveyard and flees inside the church to seek help. She finds Louise who is attending the service and the investigation begins. The death is declared a suicide but Louise and Elizabeth think that there is something suspicious.
I thought that the tension and pace were well maintained as the plot twists and turns. There are some upsetting scenes involving grief and self harm. The crime and drama is counterbalanced against the lead detectives who have light hearted banter with each other.
There is a great rapport between Louise and Elizabeth. Both are fighting to be valued in their relationships and careers. Being the 1980s, they defy the social norms of the time in their personal and professional choices. The descriptions of the era felt authentic and brought the plot and characters to life. How did we survive with so little technology?!
From Sorrow's Hold is an enjoyable police procedural and I look forward to the next book in the series.

From Sorrow's Hold book blurb
December 1988 and Christmas beckons. But what should be a time of excitement and joy is forever tainted when a teenager's body is found in the graveyard of Ossett's Holy Trinity Church, a suspected suicide.
As they respond to the devastating event, WDC's Louise Miller and Elizabeth Hines, together with psychologist Karla Hayes each use their own experiences of suicide to help the wider community as it struggles to understand the terrible choice that was made.
But when another teenager goes missing, Louise starts to believe there is something even more sinister behind the events …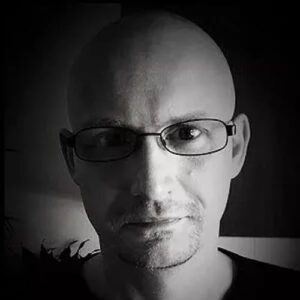 Jonathan Peace is a husband, cat-dad and author of the WDC Louise Miller novels.
​A Yorkshire lad at heart, Jonathan sets his novels in a fictionalised version of his hometown of Ossett during the late '80's and '90's. His first crime novel, DIRTY LITTLE SECRET, book one of the WDC Louise Miller series, landed him the Peter James Bursary from the Crime Writers' Association, resulting in a full membership to the CWA.
He is currently writing the second in the series.