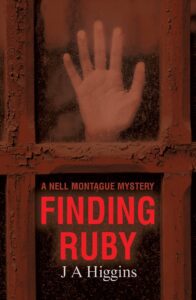 TRIGGER WARNING: domestic violence
Nell is griefstricken after her grandmother's death and faces issues in her personal life which get in the way of her work. She is suffering from vivid nightmares and believes they are linked to the disappearance of Ruby decades ago. Then a girl is snatched in the present day and Nell could hold the answers to finding her…
Finding Ruby is a mystery with paranormal elements.
The first part of the book introduces us to Nell as she adapts to life without her grandmother who is her only family. She is in an abusive relationship but her inheritance gives her the chance to escape. The domestic abuse is hinted at and then shown through a violent episode which leads to her hospitalisation.
Nell has some very disturbing dreams and we begin to piece together clues about her past and Ruby. Meanwhile we also see a young girl Emily being kidnapped. Both of these elements raise the tension and anticipation as we await further details. Later the paranormal side to the plot develops as Nell tries to understand her past and find Ruby and therefore Emily.
The style of writing was easy to read and the mystery was sustained with some good twists. I really liked Nell's character and wanted her to find happiness. There are plenty of emotion and I felt that they were realistically portrayed.
Finding Ruby is an intriguing mystery and I believe it is the first in a new series so will look out for more books about Nell.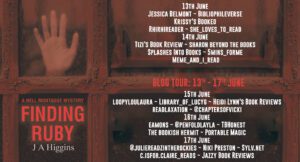 Finding Ruby: A Nell Montague Mystery
On Halloween night thirteen year old Ruby disappears in the company of a masked figure. She is never seen again. The only witness is Nell Montague who is just seven years old.
Twenty three years later, Nell is trapped in an abusive relationship and still suffering from vivid nightmares of what she saw. When tragedy strikes she escapes and attempts to put her past behind her. Then thirteen year old Emily disappears.
Haunted by increasingly disturbing visions and helped by a reluctant psychic, Nell must unravel the mystery of what really happened that night because to save Emily she must first find Ruby.  But to do so she will question everything she thought she knew about her own childhood and soon discovers that nightmares don't always end when you wake up.
Purchase Links
UK only:  JAHigginsAuthor.Etsy.com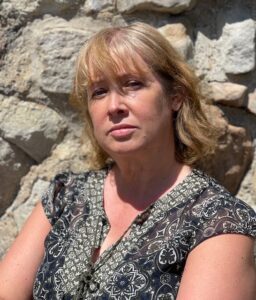 Author Bio – Born and raised at Porton Down in Wiltshire, and currently working for the NHS in Salisbury, J A Higgins has always been fascinated by crime, history and the unexplained.  Finding Ruby is a Page Turner Awards 2021 winner, and the first in the Nell Montague mystery series which will examine how horrors from the past are still very relevant today.
Social Media Links –

Giveaway to Win a signed copy of Finding Ruby and matching bookmark (Open to UK Only)
*Terms and Conditions –UK entries welcome.  Please enter using the Rafflecopter box below.  The winner will be selected at random via Rafflecopter from all valid entries and will be notified by Twitter and/or email. If no response is received within 7 days then Rachel's Random Resources reserves the right to select an alternative winner. Open to all entrants aged 18 or over.  Any personal data given as part of the competition entry is used for this purpose only and will not be shared with third parties, with the exception of the winners' information. This will passed to the giveaway organiser and used only for fulfilment of the prize, after which time Rachel's Random Resources will delete the data.  I am not responsible for despatch or delivery of the prize.