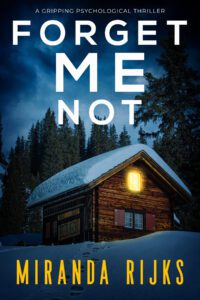 Helen's husband Paul is presumed dead after he disappeared whilst skiing five years ago. She has moved on with her life, building a new career and ready to marry again. A job opportunity she can't turn down just happens to be in the same mountains where she last saw Paul…
Forget Me Not is a psychological thriller and domestic drama novel centred around a marriage and a disappearance.
Helen and Paul's relationship was ready to change forever as she had just discovered that she was pregnant. The next day he vanished in an alpine storm and was assumed to be buried in the snow. Helen went on to give birth and find new love but cannot properly move on until the seven year deadline has passed.
The book is written in the past and present from two perspectives. The big twist occurs about a third of the way through and was pretty obvious. However, I loved how the narration builds the layers of the characters' stories and was totally engrossed in the plot from start to finish.
I had absolutely no sympathy for Paul's character. He is utterly selfish and this helped to make me like Helen even more. She goes through so much as a result of his choices and now finally has a chance of happiness with her new family as well as getting her dream career which she previously had held off due to Paul's work.
Finally I'd just like to mention the geographical setting and the detail on skiing. The plot really came to life against the backdrop of the mountains and the author clearly knows about winter sports. This made the whole book more authentic in my opinion.
Forget Me Not was an engaging and entertaining thriller.
I have previously reviewed The Second Wife by Miranda Rijks.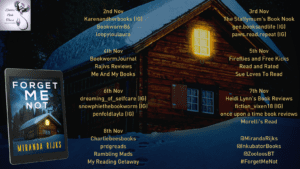 Book Blurb
Five years ago, Helen lost her husband. Now she may lose her life.
Five years ago, Helen's husband Paul went missing while skiing in the Swiss Alps. His body was never found, but he is presumed dead because no-one could have survived a night on that freezing mountainside.
It took Helen a long time to get over her loss, but now she has pulled her life back together – she is an acclaimed interior designer in a loving relationship with a new man.
Even better, Helen has just been offered her dream project, renovating a luxurious chalet in an idyllic location. There's only one catch – it's right next to the resort where Paul went missing.
She decides to take the job anyway, convincing herself that a visit to the scene of her great tragedy will actually be good for her, that it will give her a chance to lay old demons to rest.
But soon after she arrives, she makes an utterly shocking discovery and finds herself caught up in a nightmarish web of treachery and deceit where nothing is as it seems.
Only one thing is certain – the mountains want to claim another body…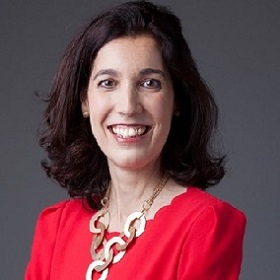 Author Bio
Miranda Rijks is a writer of psychological thrillers and suspense novels. She has an eclectic background ranging from law to running a garden centre. She's been writing all of her life and has a Masters in writing. A couple of years ago she decided to ditch the business plans and press releases and now she's living the dream, writing suspense novels full time. She lives in Sussex, England with her Dutch husband, musician daughter and black Labrador.
Follow her at: