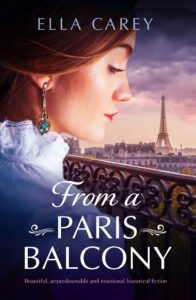 Sarah's parents have recently died and her husband is divorcing her. She decides to embark on a trip to Paris to investigate the mystery behind her ancester Louisa's death.
From A Paris Balcony is the third book in Ella Carey's series which began with Paris Time Capsule and The House By The Lake. All three books are linked by the Parisian courtesan Marthe de Florian and her apartment.
This is a dual timeline book so we see Sarah in the present and Louisa in the past. Both women are likeable and their plotlines are engaging especially are they are connected.
Sarah surprises her friends by being spontaneous and travelling to Paris. There is a romantic spark between Sarah and Laurent as they share the de Florian apartment as she battles with her self esteem.
Louisa in the 1890s is a brilliant character. Determined to challenge society's limits on women, she wants to support the Rights For Women movement. She meets the charming Henry Duval and he seems to share her values but once they marry she discovers his selfishness.
There is plenty of emotion in From A Paris Balcony. As my degree included Women's Studies, I loved the feminism angle and felt that I understood Louisa's angst at being constrained by an unfair society. I enjoyed the mystery of Louisa's life and death which keeps the plot moving along as Sarah makes discoveries and we also see Louisa's own perspective.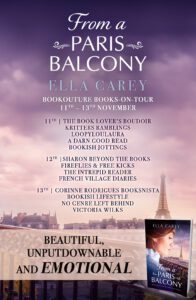 Book Description:
The small green chest was concealed at the back of her father's wardrobe. Its hinges were made of brass that must once have shone, but now the surface was roughened and dull. As she opened the lock, there was only one thing inside: a letter, postmarked 1895, Paris.
England, 1895. Louisa West, a young beauty from Boston, looks like she has it all: a handsome husband, she is lady of Ashworth Manor and one day she'll be a duchess. But in truth, her life is falling apart. Louisa's honeymoon is barely over when her husband deserts her, leaving her devastated and alone. She flees to Paris, longing to escape her grief, but finds only tragedy…
Boston, 2015. Life hasn't been kind to Sarah West. In one year, she has lost both her parents and her marriage. After her father's death, Sarah is sorting through his belongings when she finds a letter about her mysterious ancestor, Louisa. There have always been whispers in the family about Louisa's suicide—from a high balcony in Paris—but as Sarah reads, she starts to question everything she was told. Desperate to leave her broken heart behind, she books a trip to Paris to find out more…
When Sarah arrives in the city of lights, the cobbled streets of Montmartre and the river Seine at twilight make her heart sing. Then, on the bookshelf of a beautiful Paris apartment, hidden inside the yellowing pages of an old novel, she finds a note about Louisa which shatters Sarah's understanding of her family's past. Did Louisa really throw herself from a Paris balcony? And when Sarah uncovers the truth, will it change everything about her future?
An utterly captivating and emotional historical novel from bestselling author Ella Carey that will transport you to Paris at its most glamorous. From a Paris Balcony will have fans of Rhys Bowen, Fiona Valpy and My Name is Eva totally gripped!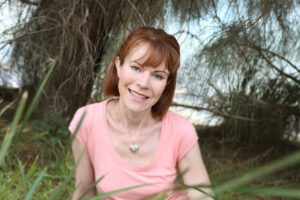 Author Bio:
Ella Carey is the international bestselling author of The Things We Don't Say, Secret Shores, From a Paris Balcony, The House by the Lake, and Paris Time Capsule. Her books have been published in over fourteen languages, in twelve countries, and have been shortlisted for ARRA awards. A Francophile who has long been fascinated by secret histories set in Europe's entrancing past, Ella has degrees in music, nineteenth-century women's fiction, and modern European history. She lives in Melbourne with her two children and two Italian greyhounds who are constantly mistaken for whippets.
Ella loves to connect with her readers regularly through her facebook page and on her website.
Buy Links: