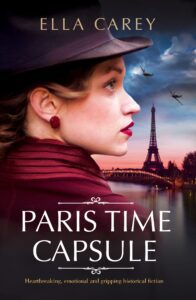 Catherine Jordan is summoned to Paris to receive a mystery inheritance. Her grandmother was left an apartment and Cat is her only heir. She discovers a time capsule, the apartment abandoned in 1940 as the owner fled Paris and never returned. Cat is adamant that the family should inherit but love is in the air in the most romantic city in the world…
Paris Time Capsule is based on the real life discovery in 2010 of an apartment sealed since the 1940s. The owner of the apartment was Isabelle de Florian and author Ella Carey used this as the starting point for the rest of the book: everything else is fictional.
I felt immediately drawn into the mystery of the apartment's ownership. I have read several WW2 novels in recent months so have various suspicions about the reasons for Isabelle leaving Paris but the truth is not revealed until the very end (and I was wrong).
Cat has noble intentions to give the inheritance to the family of the apartment's owner. But the Archer family are equally determined that the wishes of Isabelle should be honoured. Together, they attempt to discover the truth behind Isabelle's desertion of her apartment which takes them on a mini tour of France.
Added to this is the attraction between Cat and Loic which is a pleasant subplot. It is perfectly clear to us as readers that Cat and her fiance are ill suited and I was almost shouting for her to fall for Loic. This was a little predictable but also enjoyable to see Cat become her own woman and develop a confidence in herself.
I admit that some of the book felt a little clunky and the ending was slightly abrupt. However this did not interfere with my enjoyment of the book overall as I was swept up in the mystery and romance of the narrative.
I have previously reviewed Beyond the Horizon by Ella Carey.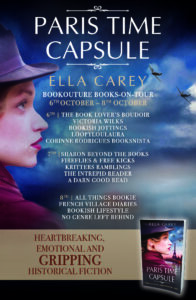 Paris Time Capsule book description:
The parcel arrived on an ordinary morning in the mailbox of her New York apartment, postmarked Paris. It was wrapped in brown paper and tied with a silk ribbon. Little did she know that the old brass key and letter it contained were about to turn her life upside down…
1940, Paris. Life is getting desperate for young Isabelle de Florian. Alone with her best friend in her Paris apartment, Isabelle knows that they must seek safety or die. For months she has been playing a dangerous game of secrets with the Nazis, trying to keep the people she loves safe. At last, she secures passage out of the city, packs her best jewels into a small suitcase and steps into the treacherous night…
New York, 2015. Photographer Cat Jordan is shocked when she receives a letter informing her that she is the sole heir of the estate of Isabelle de Florian. She was a friend of Cat's enigmatic grandmother, who both lived in France until the Nazi occupation forced them to flee. The letter offers few details but is clear on one point: Cat must come to Paris in person.
When she arrives, Cat is enchanted by Isabelle's beautiful apartment. But why did she leave it to a stranger? Determined to find the truth, Cat investigates her grandmother and Isabelle's escape from Paris, and discovers that Isabelle was hunted by the Nazis in 1940. But as Cat searches through the dusty letters in the apartment, will the secret she finds change everything she knows about Isabelle and herself?
From bestselling author Ella Carey comes an utterly spellbinding novel about wartime secrets. Paris Time Capsule shows that pulling on the tiniest thread of a life can unravel everything you thought you knew, and change your world forever.
This book was first published in 2015.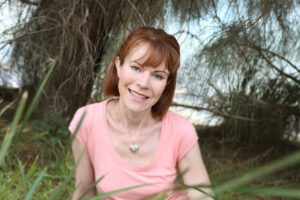 Author Bio:
Ella Carey is the international bestselling author of The Things We Don't Say, Secret Shores, From a Paris Balcony, The House by the Lake, and Paris Time Capsule. Her books have been published in over fourteen languages, in twelve countries, and have been shortlisted for ARRA awards. A Francophile who has long been fascinated by secret histories set in Europe's entrancing past, Ella has degrees in music, nineteenth-century women's fiction, and modern European history. She lives in Melbourne with her two children and two Italian greyhounds who are constantly mistaken for whippets.
Ella loves to connect with her readers regularly through her facebook page and on her website.
Buy Links: