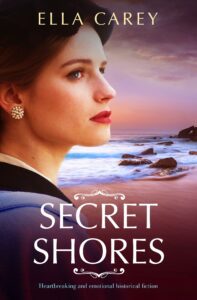 1940s Australia, Edward struggles against the constraints of his social class as he pursues his passion to be a writer. He meets Rebecca, an artist, but will they ever overcome their social status differences?  1980s New York, Tess has her prize author taken from her and is handed a manuscript from Edward. Can she make it a bestseller and revive her career?
Secret Shores is a very gentle love story. Edward and Rebecca are both artistic but have to fight class discrimination in 1940s Australia. The aftermath of the Second World War has made Edward re-evaluate his social standing and want to fulfil his passion for writing. He is supported by Rebecca, a struggling artist and they fall in love.
Meanwhile we see Edward again the 1980s as he picks up his pen for the first time in years and decides to share the story of his love for Rebecca. Tess is an editor who wants to make the book a success and investigates how much of Edward's 'novel' is in fact autobiography.
We know from the prologue that there won't be a happy ending for Edward and Rebecca due to an accident. Their gentle love story is written wonderfully against the backdrop of social change and the culture of Australia. Yet it didn't have the passion that would have driven the book and made me engage with their characters better.
I found myself drawn to Tess as she is determined and passionate so I wanted her to succeed and make Edward's book a bestseller to spite her boss. I felt that she was brave at times, and her character could have been from the modern day rather than the 1980s.
Author Ella Carey has done fantastic research into the modernist movement and there are real life characters included in the novel to blur the distinction between fact and fiction.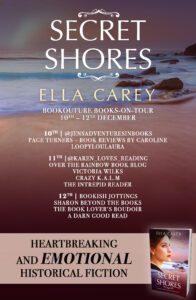 Secret Shores book description:
From bestselling author Ella Carey comes an utterly gripping and sweeping historical novel about terrible choices and heartbreaking family mysteries. The past holds more secrets than we can ever imagine…
1946. Young, beautiful artist Rebecca survived the devastating war that claimed the lives of so many of the men and women she grew up with. Her friends have returned as empty shells or not at all. But although peace has been declared, Rebecca is still fighting at home. Her controlling mother will stop at nothing to prevent Rebecca from following her dream to become a painter.
When Rebecca meets dashing young Edward, a pilot during the war, she discovers both love and an escape. Edward makes her feel truly loved, alive and excited about her future and art. But when Edward takes Rebecca to visit his childhood home on the sweeping coast, their trip ends in tragedy. Edward's father commits suicide and, consumed by grief, Edward is faced with a terrible choice: love or family?
Utterly distraught, Rebecca goes out to the shore by moonlight to paint. Under the stars, she stares into the waves, thinking about her life. The next morning she has disappeared without a trace, leaving behind only a pencil on the sand. Finding the truth will change everything for those who were left behind…
Fans of My Name is Eva, Rhys Bowen and Lucinda Riley will fall head over heels in love with Secret Shores.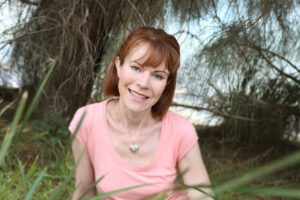 Author Bio:
Ella Carey is the international bestselling author of The Things We Don't Say, Secret Shores, From a Paris Balcony, The House by the Lake, and Paris Time Capsule. Her books have been published in over fourteen languages, in twelve countries, and have been shortlisted for ARRA awards. A Francophile who has long been fascinated by secret histories set in Europe's entrancing past, Ella has degrees in music, nineteenth-century women's fiction, and modern European history. She lives in Melbourne with her two children and two Italian greyhounds who are constantly mistaken for whippets.
Ella loves to connect with her readers regularly through her facebook page and on her website.
Buy Links: