The Things We Don't Say is a painting by groundbreaking modernist artist Patrick Adams. The only portrait he ever painted of someone he knew. The sitter was the love of his life, Emma Temple. Now aged 90, Emma cherishes Patrick's memory so is devastated when an art dealer claims that it was in fact painted by someone else. The implications for her granddaughter are huge as her whole career is at risk…
The Things We Don't Say is a dual timeline book set in the 1910s and 1920s as well as the 1980s. Both timelines are written effectively and evoke the culture of the times.
The mystery of the painting is maintained throughout the whole book. Emma's granddaughter's future is at risk as they have used the painting as collateral to fund her music studies. There is a spark between Ewan and Laura but her anger and passionate defence of the painting's provenance is unwavering as is his claim of forgery.
This book is character driven rather than huge plot developments. The relationship between Emma and Patrick, their love that transcends the physical and endures despite his homosexuality. The narrative develops in a non linear way as the timelines are interspersed with each other. There is a gentleness to the style of writing which brings the characters to life and adds a richness to the historical detail.
Overall, The Things We Don't Say is an enjoyable book about the enduring power of love.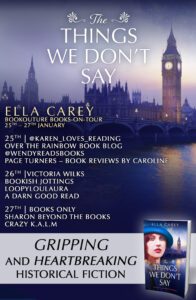 Book Description:
From top-ten bestseller Ella Carey comes a gripping, haunting and utterly captivating novel about love, secrets and betrayal in a story that spans the most tumultuous decades of the twentieth century.
What happens when the truths you have built your life on start to crumble?
Emma Temple sits looking out of the window in her beautiful apartment in the heart of London, surrounded by memories of her younger years as one of England's most influential artists. Nearly ninety, it would be easy to overlook her as a forgetful older lady. But Emma's past, including her great love affair which survived two world wars, is about to come crashing into the present.
When her granddaughter Laura arrives asking questions about the portrait that hangs above her bed, Emma is transported back over sixty years. The picture was painted by the only man she ever truly loved, the one soul on earth who knew her deepest secret. But when a newspaper claims that the portrait is a fake, everything Emma believed to be true starts to collapse. Suddenly she is transported back to a sunny house in the south of France in 1923 and the moment when her life changed forever…
An incredibly emotional and totally compelling historical novel about the relationships that shape us and the secrets we never forget. Fans of My Name is Eva, Fiona Valpy and Rhys Bowen will be completely transported from the very first page.

Author Bio:
Ella Carey is the international bestselling author of The Things We Don't Say, Secret Shores, From a Paris Balcony, The House by the Lake, and Paris Time Capsule. Her books have been published in over fourteen languages, in twelve countries, and have been shortlisted for ARRA awards. A Francophile who has long been fascinated by secret histories set in Europe's entrancing past, Ella has degrees in music, nineteenth-century women's fiction, and modern European history. She lives in Melbourne with her two children and two Italian greyhounds who are constantly mistaken for whippets.
Ella loves to connect with her readers regularly through her facebook page and on her website.
Buy Link: