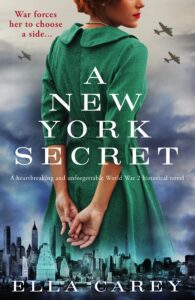 Lily Rose defies her family's expectations of making a good marriage. She works as a chef in one of New York's top restaurants, enjoying the challenge of creating culinary masterpieces using wartime rations. The man she loves, Tom, as well as the man her family insists she marries, Nathaniel, are both drafted into the military. Will she have to choose between her family and her heart or will war decide for her…?
A New York Secret is an historical novel set in the USA during the Second World War. The tastes, sights and sounds of the setting are clearly evoked through the descriptions within the book.
Lily is not content to simply accept her role in society so uses the opportunity of war to forge a career. Her mother is desperate to secure their social status with a successful marriage with wealthy Nathaniel. But Lily's heart lies elsewhere, with her restaurant colleague Tom. Both men join the army and Lily hopes for their safe return.
The majority of the book shows us Lily's perspective but there are other chapters to show her mother and grandmother's viewpoints. The war showed the world what women were capable of, stepping out of their traditional roles. Lily defies convention and the expectations placed on her by virtue of her sex, age and status.
I enjoyed the different perspective that this book offered. There feels like a feminist agenda underlying the plot due to the focus on women's roles. Lily's story provides a unique view of the class system, gender relations and personal politics of the era.
A New York Secret was a very enjoyable novel about love and life in the face of war and social expectations.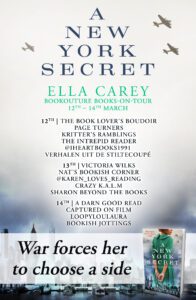 A New York Secret book description
She looked at the telegram in horror, the words blurring in front of her eyes. She dropped to her knees, feeling that her entire world was ending. The paper slipped from her hands as she put her head in hands, sobs wracking her chest…
1942, New York. As war rages in Europe, Lily Rose is grateful for her perfect life: the love of her wealthy uptown parents in their beautiful brownstone overlooking the park and her dream job as a chef at one of New York's finest restaurants, the art deco dream that is Valentino's. But in her heart, Lily is drawn towards the bohemian Sicilian community in Greenwich Village, where gorgeous fresh fruit spills onto the pavement and the smell of freshly baked cannoli tempt her inside every Italian deli.
Part of the attraction is Tom Morelli, talented chef and handsome grandson of Sicilian immigrants. His deep brown eyes call to her and set her heart on fire. As wartime rationing bites in the city, Lily and Tom stay up late, dreaming up delicious meals that will see Valentino's through the war and distract New Yorkers from the threat of sons and sweethearts being called up. Lily knows he has found the key to her heart.
Then Tom receives a devastating summons that changes everything: he is drafted to Italy. He must return to his beautiful homeland to fight a desperate war.
Suddenly alone, with only the memory of Tom's last kiss, Lily turns to her parents for support. But when her mother finds out about her relationship, she is furious. When the war ends, Lily's duty is to marry the man picked for her, raise children and never work again. They give her a heartbreaking ultimatum: end her relationship with Tom and give up her job or lose her family and inheritance forever.
Lily knows she must follow her heart to Valentino's and to Tom. But when Tom is declared missing in action, Lily is totally heartbroken. If she pursues her dreams, will there be anything left for her when the war is over?
From top-ten bestseller Ella Carey comes an utterly heartbreaking historical novel, inspired by true events, about the courage, love and friendships that sustain us in the darkest of days. Fans of Fiona Davis, Rhys Bowen and The Nightingale will be captivated.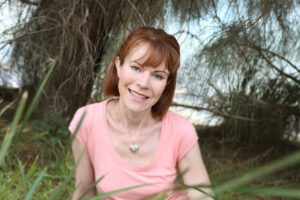 Author Bio:
Ella Carey is the international bestselling author of The Things We Don't Say, Secret Shores, From a Paris Balcony, The House by the Lake, and Paris Time Capsule. Her books have been published in over fourteen languages, in twelve countries, and have been shortlisted for ARRA awards. Ella is a Francophile who has long been fascinated by secret histories set in Europe's entrancing past. She has degrees in music, nineteenth-century women's fiction, and modern European history. She lives in Melbourne with her two children and two Italian greyhounds who are constantly mistaken for whippets.
Ella loves to connect with her readers regularly through her facebook page and on her website.
Buy Link: