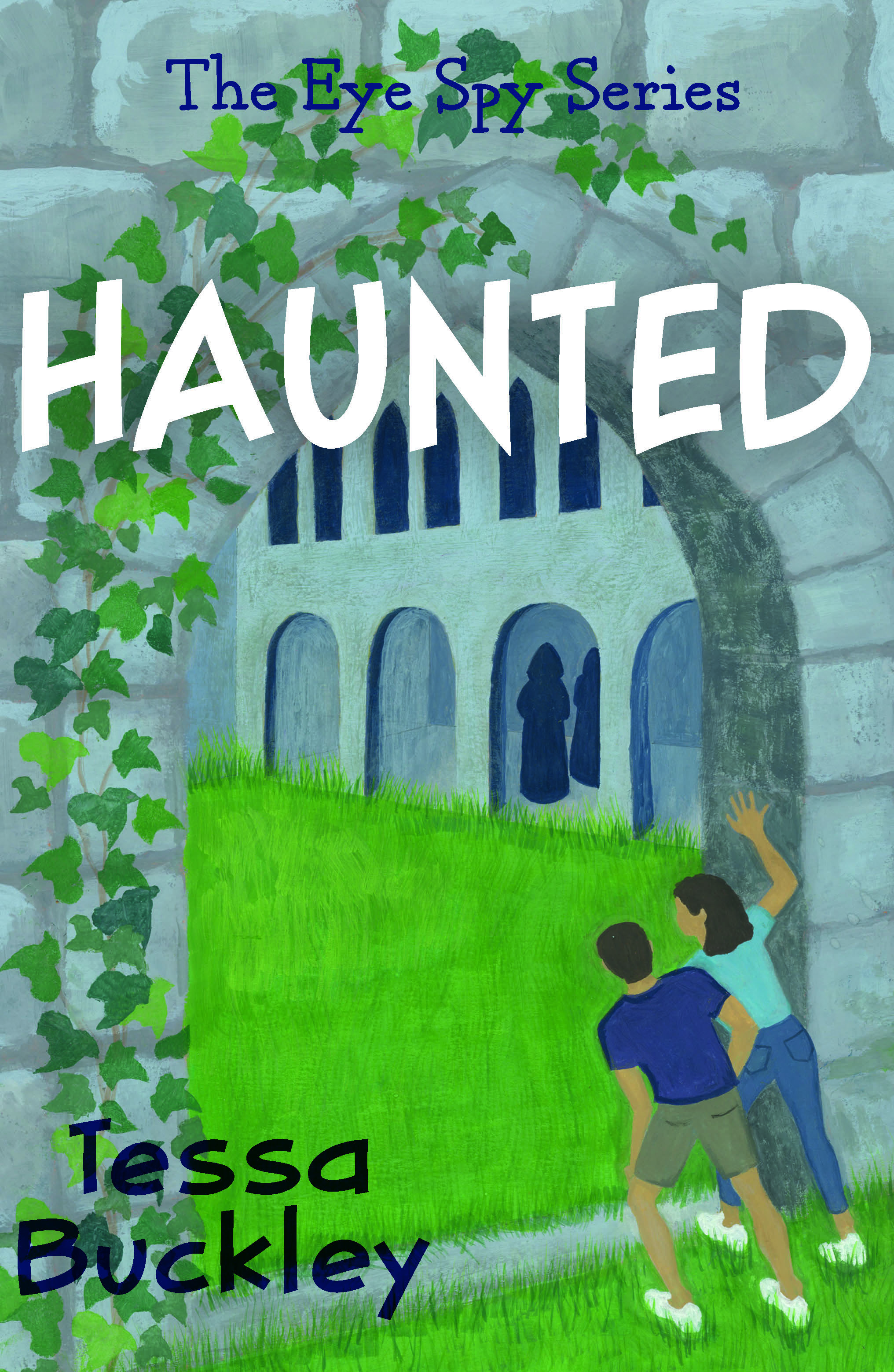 Twins Alex and Donna Macintyre meet up with old friend Jimmy Devlin whose family have moved into a stately home after winning the lottery. The Priory is reputedly haunted and Jimmy's family are starting to notice strange things. The staff are acting oddly and an expensive ring has gone missing. Alex and Donna offer to help investigate but should they be afraid of the living or the dead…?
Haunted is the second book in the Eye Spy series of children's books by Tessa Buckley. The series is aimed at children aged 8-12 and I think my 8 year old daughter would love this as she wants more grown up book with a crime plot. I have not read the first book and there are a few references to events in Eye Spy but there are no major spoilers.
The book is written from the first person perspective of Alex. He and his twin seem to be in permanent trouble but always have the best intentions. Their lives outside of their investigation felt very realistic and will help young readers to identify with the twins. They are both likeable and the unfairness of their teacher's attitude makes them more endearing too.
I found myself in a cosy mystery which reminded me of The Five Find-Outers (or 'The Mystery Of' books as I called them) by Enid Blyton which I loved as a child. There is plenty of suspense as well as some spooky parts and the mystery is well maintained through the novel. The children do find themselves in danger at the end of the book but it is dramatic rather than scary.
Haunted is a fun and entertaining book that it a quick read for adults and a more grown up read for children developing in confidence. I will be sharing with my own children right away as I think they will enjoy it!

Haunted book blurb
Alex doesn't believe in ghosts, but he is about to have his beliefs challenged…
When Jimmy Devlin asks the twins to investigate the strange things that have been happening at The Priory, Alex seizes the opportunity to prove to his sister that there is no such thing as ghosts. However, it soon becomes clear that unquiet spirits are not the only problem facing the Devlin family.
Are the family servants hiding secrets? Has a valuable ring been stolen, or just mislaid? And what has happened to Jimmy's missing elder brother, Harry? As the twins and Jimmy try to solve the many mysteries of The Priory, they discover they are dealing with a very dangerous enemy…
Purchase Link
Author Bio –
Tessa Buckley was an inveterate scribbler as a child, and spent much of her time writing and illustrating stories. After studying Interior Design, she spent fifteen years working for architects and designers. She took up writing again after her young daughter complained that she couldn't find enough adventure stories to read. This led, in 2016, to the publication of  Eye Spy, the first in a series of detective stories for 9-12 year olds, designed to encourage reluctant readers. The second book in the series, Haunted, was a finalist in the Wishing Shelf Book Awards 2017.
Tessa lives with her husband and a large white cat called Pippa. in a town on the Thames estuary, which inspired the seaside setting for the novels. She also writes about health and nutrition, and family history, which has been her passion for many years.
Social Media Links –