TRIGGER WARNING: VIOLENCE AND SEXUAL EXPLOITATION
He Knows Your Secrets but you also know his! This book is action packed from the very first chapter when a girl attacks a taxi driver and forces the car over the cliff, killing them both.
Her actions were to save her lover Kelly from a life of exploitation, prostitution and fear. But Kelly is grieving for her mum and now her girlfriend as well. She has no support and lives in fear for her life and her friends if she goes to the police.
Can DS Maddie Ives and her team find Kelly before it is too late…?
This is an excellent book but not always easy to read due to the dark nature of the plot. I actually had to turn away from the book at several points as I anticipated what dreadful event was about to occur next. The violence is often implied rather than overt which increases the tension for the reader and allows our imagination to take over.
What I loved is that the lead character Maddie is not the senior officer as is usual with police thrillers. She needs to negotiate professional relaitionships with her superior officers and subordinates as well as other investigative agencies.
Freddie Rickman is a despicable character and his arrogance and brutality is truly awful to read. The situation that Kelly finds herself is is truly dreadful. I was desperate for her to go to the police but the insidious and real fear conveyed by the narrative was so raw and believable.
This is the fourth book to feature DS Ives but the first that I have read. There is a little history involved in relation to her personal life but this is adequately explained within this book. Reading the previous books is not necessary but is definitely desirable as the writing is so good!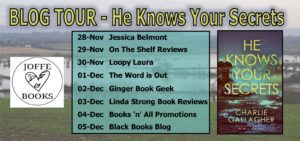 He Knows Your Secrets (Maddie Ives #4) by Charlie Gallagher
THE MOST HEART-POUNDING THRILLER YOU WILL READ THIS YEAR
THREE WOMEN. ONE WILL SACRIFICE HER LIFE TO STOP HIM. ONE IS HIS NEXT VICTIM. ONE MUST TRY TO PUT HIM BEHIND BARS.
Holly Maguire takes a taxi to a clifftop location. She is determined to make things right. Then the car goes over the edge of the cliff.
As Holly falls to her death, she tightens her grip on a rucksack.
SHE WILL GIVE HER LIFE TO BRING HIM DOWN.
Kelly Dale wakes up to her first day without her mother. Her mum passed away late the previous night after losing a battle with cancer. Kelly receives a text from Holly, sent just before the accident, and rushes to the clifftop. She is too late.
Kelly has lost her mother and girlfriend in the space of a few hours.
Now she must face her own battle to stay alive.
HE WILL KILL KELLY NEXT. HE WANTS TO LIVE-STREAM HER MURDER.
Detective Maddie Ives is called out to inspect the wrecked vehicle. She is under pressure to write it off as a murder-suicide or a terrible accident. Holly was a known sex worker and the running theory is that she may have been engaged in activity with the taxi driver when it rolled over the side.
Maddie doesn't buy it. Holly's rucksack contains seemingly random and worthless items but Maddie quickly finds numerous links to a crime boss.
MADDIE MUST STOP A POWERFUL MAN WHO EXPLOITS AND CONTROLS WOMEN.
It's a tense and thrilling ride as the net closes in. But time is running out to save Kelly.
HE KNOWS YOUR SECRETS: the new thriller from Charlie Gallagher. Perfect for fans of Kimberley Chambers, Damien Boyd, Rachel Abbott, Patricia Gibney or Mark Billingham.
What people are saying about CHARLIE GALLAGHER:
"You will not want to put this book down." Barbara
"A brilliant book." Viv
"Another highly entertaining, twisty and tension-filled read." Lou
"Up there with the best." Carole
THE AUTHOR
Charlie Gallagher has been a serving UK police officer for more than ten years. During that time he has had many roles, starting as a front-line response officer, then a member of a specialist tactical team and is currently a detective investigating serious offences.
ALSO BY CHARLIE GALLAGHER
MADDIE IVES
1: HE IS WATCHING YOU
2: HE WILL KILL YOU
3: HE WILL FIND YOU
4: HE KNOWS YOUR SECRETS
LANGTHORNE POLICE SERIES
Book 1: BODILY HARM
Book 2: PANIC BUTTON
Book 3: BLOOD MONEY
Book 4: END GAME
MISSING
THEN SHE RAN
HER LAST BREATH
RUTHLESS
LINKS
Twitter:     @gloriouscharlie