TRIGGER WARNING: this book deals with domestic abuse and child murder
A truly shocking case for DS Maddie Ives as a woman is found dead and a man claims responsibility but she has her doubts about the truthfulness of his confession. Meanwhile others are psychologically tortured to coerce them into getting secret police and social worker documents: abuse victims that have been rehomed for their safety but are now back in danger…
The professional working relationships of the police are fraught due to events in the last book (there are spoilers so beware!) Maddie has gone from one secret romance to another whilst having an antagonistic relationship with her new boss.
I'll admit that The Deadly Houses was a difficult book to enjoy due to the disturbing nature and intensity of the case. It is incredibly well written and I felt myself completely sucked into the plot and emotionally connected with the characters and the terrible circumstances they face.
The action is fast paced and relentlessly good. There is a mystery at the beginning as to why such awful things are happening and who is responsible. The drama is intense and believable, with terrible dilemmas that the characters face which make us as readers question what we would do in their place. The final chapters are truly horrific and devastating to read but utterly brilliant.
Overall, The Deadly Houses is an excellently dark and gritty police thriller.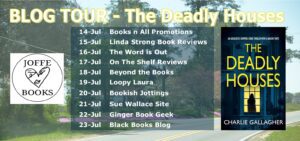 Deadly Houses (Maddie Ives #6) by Charlie Gallagher
Discover the hottest crime thriller this summer.
THEY LOST THEIR FAMILIES, NOW THEY'RE COMING FOR YOURS
Four brutal men destroyed their own families. And they will do anything to get them back.
Detective Maddie Ives won't let that happen.
She works with the people who will keep them safe. But then the team protecting them begin to be hunted down.
The social worker leading the case is found beaten and suffocated. A man turns himself in claiming to be the killer, but Maddie knows he's lying.
FEAR WILL MAKE YOU DO THE UNIMAGINABLE
Three more victims are under pressure. If they fail, their families will die.
Detective Maddie Ives faces a heart-pounding race against time to connect the crimes. And she calls in Harry Blaker, still grieving the loss of his own daughter, to help.
YOU'RE NOT EVEN SAFE IN YOUR OWN HOUSE
Perfect for fans of Kimberley Chambers, Angela Marsons, Rachel Abbott, Patricia Gibney or Mark Billingham.
DON'T MISS THE MOST GRIPPING THRILLER YOU'LL READ THIS YEAR!
PRAISE FOR CHARLIE GALLAGHER
"An exceptional thriller with a truly evil antagonist, this is a book that is nigh on impossible to put down." Lou
"This is a brilliant read." Billie
"Riveting crime fiction with twists and turns that make this a real page-turner." Linda
"I haven't come across such an evil, warped-minded villain for a long, long time." Sarah
"I think this is the best yet — fantastic read from start to finish." Nerys
"This is a truly sensational thriller that's impossible to put down."
"As the story hurtled towards its devastating denouement, I was caught totally by surprise at what happened."
THE AUTHOR
Charlie Gallagher has been a serving UK police officer for more than ten years. During that time he has had many roles, starting as a front-line response officer, then a member of a specialist tactical team and is currently a detective investigating serious offences.
ALSO BY CHARLIE GALLAGHER
MADDIE IVES
Book 1: HE IS WATCHING YOU
Book 2: HE WILL KILL YOU
Book 3: HE WILL FIND YOU
Book 4: HE KNOWS YOUR SECRETS
Book 5: HE WILL GET YOU
Book 6: THE DEADLY HOUSES
GEORGE ELMS, LANGTHORNE SERIES
Book 1: BODILY HARM
Book 2: PANIC BUTTON
Book 3: BLOOD MONEY
Book 4: END GAME
Book 5: MISSING
Book 6: THEN SHE RAN
Book 7: HER LAST BREATH
STANDALONE
RUTHLESS
LINKS
Twitter:     @gloriouscharlie