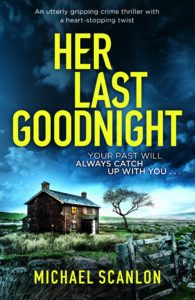 Finnegan Beck's latest case is the murder of Eddie Kavanagh, beaten to death but not robbed of the engagement ring he was carrying. Beck is convinced that there is a connection with a local brothel but his superiors are skeptical. Then other witnesses are found murdered too…
Finnegan Beck is a complex character and his personal life is at the forefront of this novel. He is back to drinking, although managing to restrict himself so that he can still work. His lover moves in but she is the wife of his former chief superintendent who refuses to allow him to return to his former police role.
I liked the relationship between Beck and Claire who wants to take exams and progress her career but feels compelled to follow procedure rather than acting on instinct. There is also the spectre of his parents' unhappy marriage and untimely deaths. This affects his drinking and whole attitude towards the case. He suffers flashbacks and remembers details he has blanked out for years.
Her Last Goodnight is a much more emotional book than the previous two in the series
(

Where

 

She Lies

and The Child Before). We gain a better insight into Beck's history whilst also despairing at his life choices. His dogged determination and commitment to justice shine through the novel whilst author Michael Scanlon also demonstrates his softer side with the fostering of the murder victim's dog Max.
Overall, a very enjoyable police procedure novel with a very human emotional core.
Media Kit:
Title: Her Last Goodnight
Author: Michael Scanlon
Buy Links:
Publication Day: 14/01/2020
Description:
Eddie stands at his door anxiously waiting for her to arrive, touching the box in his pocket for luck. He doesn't hear the footsteps behind him until it's too late…
Detective Finnegan Beck is called to a violent crime scene – a remote house near the rural Irish town of Cross Beg – where a dog lies whimpering beside his beloved owner's body.
At first it looks like a burglary gone wrong. But Beck spots something his colleagues didn't. The victim, Eddie Kavanagh, was wearing his smartest clothes. He'd brushed his hair. And, on closer inspection, a small velvet box containing an engagement ring is discovered in his pocket, along with a letter to a nameless woman, which seems to suggest she's in danger.
Those who knew Eddie have no idea about a female friend though – there's been no one in his life since a girl who he'd loved and who'd broken his heart decades before.
So who was the woman Eddie was waiting for? And did his connection with her ultimately lead to his murder? When a beautiful young woman is then found beaten to death, murdered exactly as Eddie had been, Beck has to ask – is the danger over? Or is it just beginning?
An absolutely addictive and atmospheric crime novel that will leave you gasping for breath. If you love gripping thrillers from Rachel Caine, Robert Dugoni and Kendra Elliot, you won't be able to put this one down.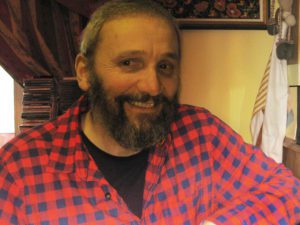 Author Bio:
Michael Scanlon is a civilian employee of the An Garda Siochana (the Irish police force), but a life threatening undiagnosed illness that struck while travelling in Spain in 2014 has rendered him on long term sick leave. He is married to Eileen and has a daughter, Sarah. He lives in the countryside outside the town of Ballina in County Mayo. The town has arguably the best salmon river in Europe, called the Moy.
Author Social Media Links: