Beck is a police officer with a past. He had been demoted and forced to move stations but the reasons for this are not shared with the reader until the second half of the book. He has also ended a relationship with a married woman. He has to negotiate new relationships with his new colleagues whilst disciplinary procedures make him wonder if he should stay in the police.
A teenager is murdered and Beck is on the team investigating. Will his antagonistic relationship with his senior officer help or hinder the hunt tor the killer?
There are plenty of secrets and red herrings to keep the reader guessing throughout the book. Many of the characters are hiding something but are they involved in murder…?
I really enjoyed this book. The style of writing is easy to read and get hooked! Beck is a great lead character and I liked the way he interacted with his colleagues and friends. I can easily imagine this being made into a TV show.
I felt that the ending was a little rushed (although this could have been because I was enjoying it and didn't want it to end!) and would have liked a greater insight into the killer's motives. We saw some chapters written from his perspective and I think this should have been expanded. I liked the use of a newspaper report at the end to draw the case and the book to a conclusion.
Title: Where She Lies (previously titled The Quiet Ones)
Author: Michael Scanlon
Buy Links:
Publication Day: Feb 8th 2019
Description:
In a town full of liars, who can you trust? When Detective Finnegan Beck is demoted from his high-powered job in Dublin and relocated in disgrace to the small Irish town of Cross Beg, he predicts boredom will be his biggest threat.
But then a beautiful, local teenage girl is found strangled in the cold, dark woods a mile from town. The prime suspect is the seemingly-gentle drifter who found Tanya's body.
Beck seems to be the only person who can't escape the feeling that Tanya wasn't killed at random. As he digs deeper into the shadows of Cross Beg, he begins to realise it isn't the sleepy backwater he'd first believed. Everyone here has something to hide. Tanya had a boyfriend, whose name no one knew. A best friend with a loose relationship with the truth. And a habit she thought she'd kept hidden from everyone.
But, just as Beck believes he is making progress, the body of one of the suspects is found drowned in the river. Is the killer just getting started?
Everyone in the town seems to have something they would die to protect. But who has a secret they'd kill for?
This debut novel from a powerful new Irish voice is the first in a gripping series that will feature the brilliant, haunted Detective Finnegan Beck who won't rest until justice is found. Perfect for fans of LJ Ross, Joy Ellis and Patricia Gibney.
Author Bio: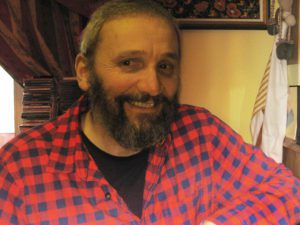 Michael Scanlon is a civilian employee of the An Garda Siochana (the Irish police force), but a life threatening undiagnosed illness that struck while travelling in Spain in 2014 has rendered him on long term sick leave. He is married to Eileen and has a daughter, Sarah. He lives in the countryside outside the town of Ballina in County Mayo. The town has arguably the best salmon river in Europe, called the Moy.
Author Social Media Links: