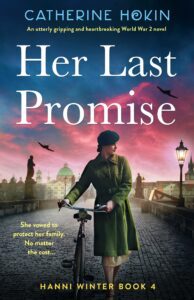 1963, Germany. Hanni and Freddy's son runs away to her Nazi father and Hanni decides it is time to make Reiner pay for his war crimes once and for all…
Her Last Promise is the fourth book to feature Hanni and Freddy. I have previously read and reviewed the earlier three books in the series:

The Commandant's Daughter

, 

The Pilot's Girl

, and The Girl in the Photo. I think the books should be read in order as they chart the course of Hanni and Freddy's life together.
Hanni and Freddy's relationship has crumbled since the events of the last book. They are both united in their love for their son Leo but he is adamant he wants to reject his Jewish heritage and join his Nazi grandfather. Hanni and Freddy are horrified and spurred to take action against Reiner and avenge the war crimes he is guilty of.
I enjoyed the complexity of the emotions that are covered by the book. The war and Holocaust cast long shadows over the lives of the characters. I feel that this is quite a unique angle as most books focus on the experience in the camps rather than what happened afterwards. Reiner has been a classic baddie from the very start of the series, and I was longing for him to have a good downfall at last to free Hanni from her guilt and shame.
Her Last Promise is an emotional historical novel which covers big issues about family, identity and survival.
Book Description:
'Too many have suffered at my father's hands. I won't let it continue. I'll stop him, I'll build a world where we can finally be free, I swear it…'
Berlin, 1938.When Hanni's beloved sister suddenly vanishes in the middle of the night, Hanni knows her high-ranking Nazi father, Reiner, is not telling her the whole truth and may hold the key to her disappearance.
Years later, after finally learning how to live with her troubled past, Hanni dedicates herself to raising her teenage son, Leo, but her sister is never far from her mind. But when Leo begins to share Reiner's pro-Nazi views and runs away from home to meet his grandfather, Hanni's world collapses in an instant. She is determined not to lose her son to her father's cruelty, like she lost her darling sister all those years ago…
Hanni has tried to stop her father before and nearly lost her life. Now she is fighting for Leo too and the stakes are higher than ever. She can't lose him to the Nazis. She won't let her father take her son away from her. Hanni knows this is her last chance to bring her father to justice. With her son's life hanging in the balance, Hanni knows this will be her toughest battle yet. But with Reiner's popularity stronger than ever, will she succeed?
A heartbreaking and gripping historical novel about courage, redemption and the endurance of the human spirit. Fans of The Alice Network, The Nightingale and The Tattooist of Auschwitz will be inspired by this heart-wrenching story about the choices we make to honour the lives of those we lose.

Author Bio:
I seem to have followed a rather meandering career, including marketing and teaching and politics (don't try and join the dots), to get where I have always wanted to be, which is writing historical fiction. I am a story lover as well as a story writer and nothing fascinates me more than a strong female protagonist and a quest. Hopefully those are what you will encounter when you pick up my books.
I am from the North of England but now live very happily in Glasgow with my American husband. Both my children have left home (one to London and one to Berlin) which may explain why I am finally writing. If I'm not at my desk you'll most probably find me in the cinema, or just follow the sound of very loud music.
I'd love to hear from you and there are lots of ways you can find me, so jump in via my website https://www.catherinehokin.com/ or on my Cat Hokin FB page or on twitter @cathokin
Buy Link:
You can sign up for all the best Bookouture deals you'll love at: http://ow.ly/Fkiz30lnzdo