Robert is happily married and devoted to his wife Jane. But he still has sadistic urges which he needs to release…
His Fatal Legacy is the third book in the Alardyce series set in the late Victorian era in Scotland. I have previously read and reviewed The first two books: The Missing Girls of Alardyce House and The Cursed Heir. It is not necessary to have read the earlier books as the opening chapters provide a summary of the key events and how this has impacted on the main characters.
Robert is a dangerous man but loves his wife. His propensity to cause pain and suffering in others is barely contained and this is further heightened when he feels slighted in society. He uses his cunning to wreak revenge on those who he believes have affronted him but this does not end the physical urges to maim and kill.
The creepy atmosphere and sense of danger are well maintained through the whole book. There is a lot of darkness in the events depicted but also real emotion as Robert tries to fight his demons and make good choices. The book contains episodes of violence and murder which are quite graphically described. There are also references to witches and spirits, adding a superstitious and folklore layer to the plot.
The nature versus nurture debate is key as he blames his parents yet has been shown nothing but love. Amy's struggle between her love for her son and the danger she knows he poses to others was difficult for me to empathise with as she puts other members of her family at risk because she doesn't act decisively.
His Fatal Legacy is a dramatic historical thriller.

His Fatal Legacy
Edinburgh 1896
Amy Alardyce's once-perfect life is in tatters. Her eldest son, Robert, has come of age, become the master of his own home, and married his childhood love Jane.  But with maturity has come a terrible legacy, and the dark desires Robert inherited from his evil father Matthew, are fighting to get loose.
Whilst Jane is working hard to get her and Robert accepted into fashionable society, poor women are being hunted on the streets of Edinburgh, and Amy fears her son is to blame.  And once the infamous Inspector Murphy takes up the case, Amy has to face a stark choice – denounce her son as a monster or risk her own safety to protect him from the consequences of his lethal actions.

Author Bio –
Heather Atkinson is the author of over fifty books – predominantly in the crime fiction genre.  Although Lancashire born and bred she now lives with her family, including twin teenage daughters, on the beautiful west coast of Scotland.  Her gangland series for Boldwood, set on the fictional Gallowburn estate in Glasgow begins with the title Blood Brothers.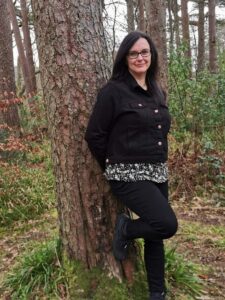 Social Media Links –