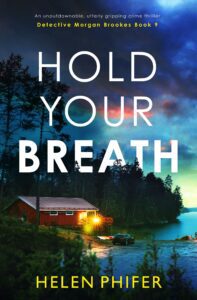 A young woman is found dead in her car with no obvious cause of death. Yet she has ligature marks on her wrists so a murder investigation is launched. DC Morgan Brookes and her team seek a cunning killer but he already has Morgan in his sights…
Hold Your Breath is the 9th police procedural and crime thriller to feature Morgan Brookes and her boss and lover Ben Matthews. There are some details about the private lives and previous cases which may act as spoilers if you haven't read the earlier books.
Morgan receives a strange and hideous gift: a death mask. Jasmine's body is discovered at a popular spot in the Lake District, where her father's suicide was found just months earlier. At first another suicide is suspected but tie marks and petechiae prove it was murder by asphyxiation. Morgan and her team suspect a link to Jasmine's work which is only strengthened when another young woman is killed. This time there is a huge link between the victim and Morgan and Ben.
The majority of the book is written to show the police investigation and the relationships between the police characters. I really like the relationship between Morgan and Ben but think both of them are reluctant to reveal the true strength of their feelings for each other. Morgan is in danger and injured quite a lot in this book which make Ben consider the future.
There are also some chapters that show the perspective of the killer. This increases the tension and drama as we see his plans for Morgan. The police have narrowed down the suspects and I was able to guess the identitiy of the killer. I found the ending to be a little abrupt and there wasn't any confession or any real conclusion which explained the motive.
Hold Your Breath is a tense and enjoyable crime and police thriller.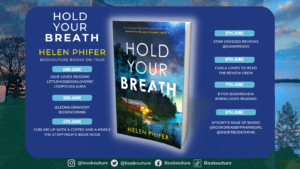 MEDIA PACK
Book: Hold Your Breath 
Author: Helen Phifer 
Pub Day: June 2nd 2023
Buy Link(s):
About the Book: 
The biting wind whips around the crystal-clear waters of the lake. The girl sits with her eyes open, as if transfixed by the waves on the shoreline, but she has taken her last breath…
When 
Detective Morgan Brookes

 is called to Lake Thirlmere one frosty night, she's devastated to find the body of a young woman positioned in front of the glistening reservoir. She has ligature marks on her limbs, glue residue on her eyes, and her beautiful face is as cold as ice. Knowing only a dangerous serial killer would arrange a scene so carefully, Morgan is in a race against time to stop them before more innocent lives are lost.
The victim is twenty-year-old Jasmine Armer and her mother is distraught to hear that her beautiful daughter is gone. And Morgan is shocked when she learns that Jasmine's father recently died by suicide at the same picturesque spot. The killer must have known the family. Then Morgan receives a terrifying package at the station of an intricate death mask. She immediately recognises Jasmine's long lashes and perfectly-plump lips.
With the killer taunting her, Morgan knows time is running out. And then Morgan gets the heart-shattering call that her friend, Emily, has been killed. Ligature marks on Emily's arms are identical to Jasmine's. 
Heartbroken Morgan knows this isn't the end of the killer's twisted game, but can she track them down before they take another life?
A non-stop thrill ride from the very first chapter to the final, epic conclusion. Fans of Angela Marsons, Rachel Abbott and Lisa Regan will be glued to the pages of this addictive rollercoaster of a read.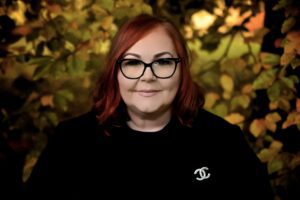 Author Bio
Helen Phifer is the Bestselling writer of the hugely popular Annie Graham, Lucy Harwin, Beth Adams and her current series featuring Detective Constable Morgan Brooks published by the fabulous Bookouture.
She lives in the busy town of Barrow-in-Furness surrounded by miles of coastline and a short drive from the glorious English Lake District.
Helen loves reading books that scare the heck out of her and is eternally grateful to Stephen King, Dean Koontz, James Herbert and Graham Masterton for scaring her senseless in her teenage years. Unable to find enough scary stories she decided to write her own and her debut novel The Ghost House released in October 2013 became a #1 Global Bestseller.
She has written over twenty books in various genres and you can follow her over on Instagram https://www.instagram.com/helenphifer/
Social Media