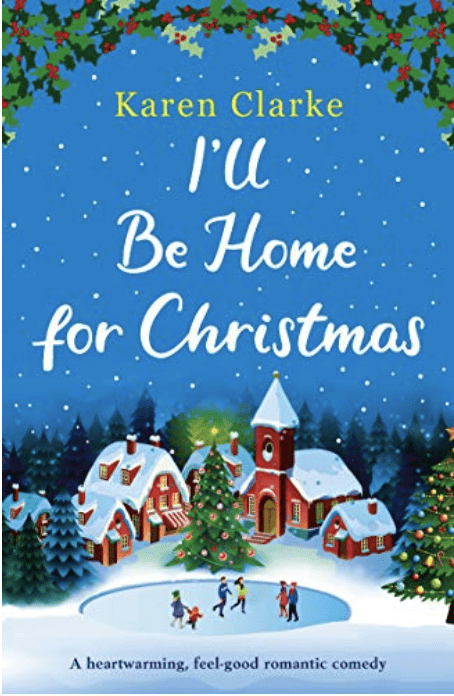 I'll Be Home For Christmas is a lovely tale of the importance of finding yourself and loving yourself before trying to find someone else to love you.
Nina Bailey is visiting France to stay with her cousin Charlie and aunt Dolly who we met in Karen Clarke's last book (Summer at the Little French Cafe).
She is at a crossroads in her life: no job but the idea of starting a travel blog, no fiance after discovering he was unfaithful and cancelling their wedding, and griefstricken after the death of her grandmother. All of these are bitterly linked and she needs time for her heart to heal.
Her aunt has other ideas and immediately begins to matchmake with Charlie's friend Ryan who is also visiting after the breakdown of his previous relationship but his ex won't leave him alone.
The developing relationship and antagonism between Nina and Ryan is gentle and fun, with plenty of feel good moments and a sprinkling of humour. The main characters have been given an emotional depth and misunderstandings ramp up the drama.
Plus there is a Christmas theme! There is a lovely festive feel to the whole book and a reminder that Christmas is only as special as the people you spend it with.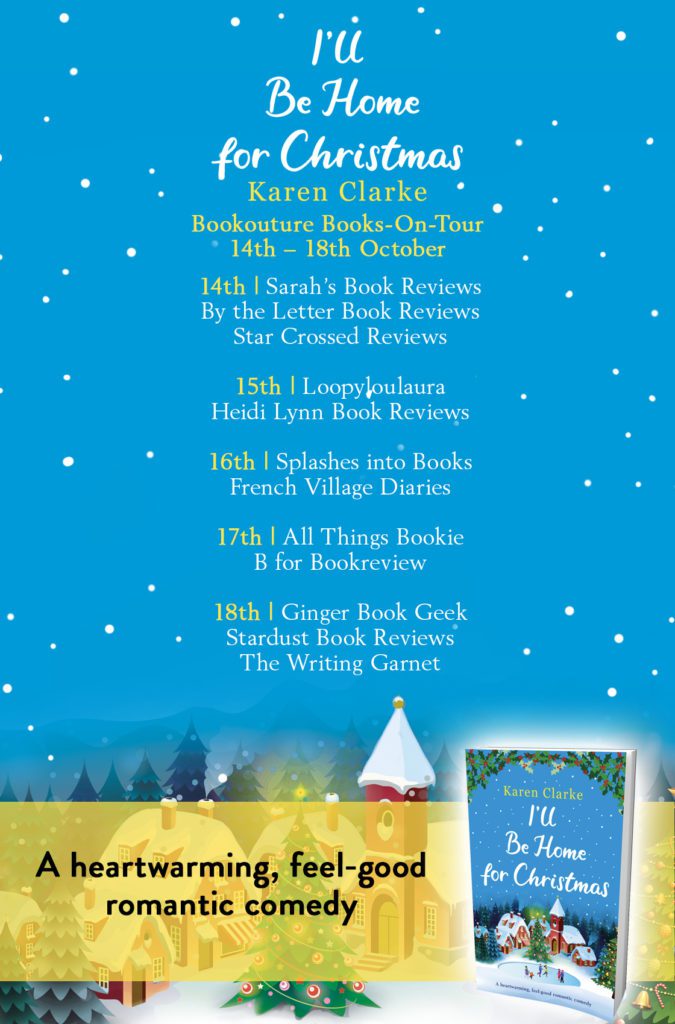 Media Kit:
Title:                  I'll Be Home for Christmas
Author:     Karen Clarke
Publication day: 14/10/2019
BUY Links:
Description:    
Nina Bailey loves Christmas. Except this year she doesn't. Because it turns out that her husband-to-be has been cheating on her – and her beautiful wedding ceremony in the snow is cancelled.
She's not really in the mood to be jolly, sing carols, or go anywhere near gingerbread men – in fact, what Nina wants is to avoid the whole thing. So she's come to stay at her Aunt Dolly's cosy café to nurse her broken heart.
Nina is determined to get through Christmas with no tinsel, no fuss – and definitely no flirting. So when she arrives and meets infuriatingly handsome Ryan Sadler, with his gorgeous forest-green eyes, she is not best pleased. And when Nina overhears him making fun of her, she is furious. (There might have been an incident with a koala onesie and a spilled bottle of milk, but that really wasn't her fault!) So despite the spark between them, and the fact that he can whip up a fabulous dinner faster than she can say Michelin star, romance and Christmas are off the menu this year.
Unfortunately, Aunt Dolly hasn't quite got the message, going to great lengths toprovide a proper British Christmas for her beloved niece: a true home away from home. With sparkling lights adorning every wall and a tree to equal the Rockefeller Center's and, yes, mistletoe above every doorway, can Nina resist the magic of Christmas – and stick to her no-romance rule?
This heart-warming romantic comedy will have you reaching for eggnog, roasted chestnuts and gingerbread cookies! The perfect festive book to read curled up in front of the fire, for fans of Sue Moorcroft, Holly Martin and Debbie Johnson.

Author Bio:
Karen Clarke writes romantic comedy novels. Her BEACHSIDE series is set in the fictional seaside town of Shipley and features recurring characters, but each book can be read as a standalone. She is currently working on a new, three-book series set in Devon.
Karen has also written three romcoms with a paranormal twist, all available to download
When she's not working on her novels, Karen writes short stories for women's magazines and has had over three hundred published globally. Some of them can be read in her short story collection 'BEHIND CLOSED DOORS…and other Tales with a Twist'
Karen lives in Buckinghamshire with her husband and three grown-up children.
Author Social Media Links: