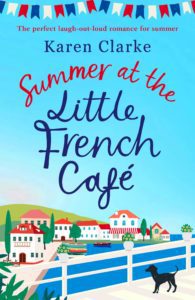 After reading several (excellent!) thrillers in a row, it was time for a change of pace and a summer feel-good read!
Elle travels to France in search of her birth mother who left her with her father aged just 1 week old. The only clue she has is a postcard wtith a cafe and location on it signed by 'M'.
During her search, and despite her rather clumsy work in the cafe, Elle also finds time for romance. She feels attracted to Henri, a wealthy fisherman and serial lover, and Charlie the cafe owner's son who is involved with someone else.
Elle is a warm and likeable character and I was instantly drawn in with her sad story. I really wanted her to get a happy ending, find the answers about her mother and fall in love ready to start a happy future together.
Summer at the Little French Cafe is also a very funny novel. The sibling and best friend relationships that Elle has are so realistic and fun which brings an extra dimension to the book by making Elle a more rounded character.
Karen Clarke's narrative style is easy to read and makes for a perfect summer book. Now I just need to find myself a beach!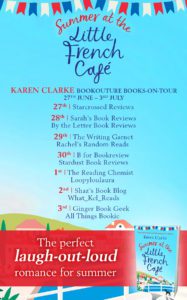 Media Kit:
Title:         Summer at the Little French Cafe
Author:     Karen Clarke
Publication day: 27/06/19
BUY Links:
Description:    
In the beautiful village of Chamillon lies the Café Belle Vie, where you'll always find croissants and friends when you need them the most – and where Elle is hoping to uncover the truth about her past…
Thirty-year-old Elle Matheson has decided it's finally time to find the mother who gave her up as a baby. With a faded postcard from the Café Belle Vie in hand – one of the very few things she has from her mother – she heads straight to the Île de Ré to begin her search.
With only the postcard and the ivory shawl she was wrapped in as clues, finding her mum is like trying to find a needle in a haystack, even with the help of friendly – and gorgeous – café-owner Charlie. And since Elle hasn't exactly told her younger sister what she's up to, the little white lies about where she is are starting to add up…
But Elle is really starting to feel at home on the beautiful island. The locals are welcoming, the café is homely, and Charlie is always there with a helping hand, a listening ear, and a pain au chocolat.
Is Elle about to discover not just where she came from – but where she belongs?
A hilarious rom com perfect for reading in the sunshine! Fans of Debbie Johnson, Zara Stoneley and Debbie Macomber will love Karen Clarke!

Author Bio:
Karen Clarke writes romantic comedy novels. Her BEACHSIDE series is set in the fictional seaside town of Shipley and features recurring characters, but each book can be read as a standalone. She is currently working on a new, three-book series set in Devon.
Karen has also written three romcoms with a paranormal twist, all available to download
When she's not working on her novels, Karen writes short stories for women's magazines and has had over three hundred published globally. Some of them can be read in her short story collection 'BEHIND CLOSED DOORS…and other Tales with a Twist'
Karen lives in Buckinghamshire with her husband and three grown-up children.
Author Social Media Links: