Matt comes home from a night out with his mates and climbs into bed beside his fiancee Kate. Except the woman in the bed isn't Kate. And she isn't alive either! Kate has been kidnapped and Matt is instructed to commit murder in order to save her: will he go through with it…?
Kill A Stranger drops us straight into the action. DCI Cameron Pryce is interviewing 3 suspects about a murder. Each chapter shows the perspective of one of these suspects or the police officer. Matt and Kate are the couple at the heart of the mystery after she was kidnapped and Matt was blackmailed. But an elderly millionaire is the final suspect and events from the past have shaped the current crime.
The dilemma that Matt is confronted with is extreme but his reaction feels very natural. He is a very likeable character. Meanwhile our suspicions about Kate are gradually established as we learn more about her past.
I think the narrative style of having the police and suspects was a clever device for showing us multiple perspectives and timelines. This allows plenty of plot twists as we make assumptions and attempt to understand the events and actions of the main characters.
Kill A Stranger was a thoroughly enjoyable thriller. The writing style was easy to read and engaging whilst the characters felt very human.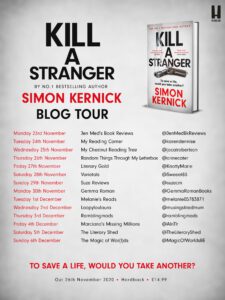 Kill A Stranger book blurb:
They took your fiancée.
They framed you for murder.
You're given one chance to save her. To clear your name.
You must kill someone for them.
They give you the time and place.
The weapon. The target.
You have less than 24 hours.
You only know that no-one can be trusted…and nothing is what it seems.
Matt comes home to find his fiancée missing …and the body of a woman he's never seen in their bed. To clear his name and save her, he will have to make an impossible choice.
Kate has been snatched in the night, by terrifying men who threaten to kill her. To save herself, she will have to do something unthinkable.
How far would you go for the one you love – and just how well do you really know them?
This twisting and gripping thriller is a masterclass in page-turning suspense – where nothing is what it seems and no-one can be trusted.
About the author:
Simon Kernick is a number one bestseller and one of the UK's most popular thriller writers, with huge hits including RELENTLESS, THE LAST 10 SECONDS, SIEGE and THE BONE FIELD series. Kill A Stranger is his 21st book.