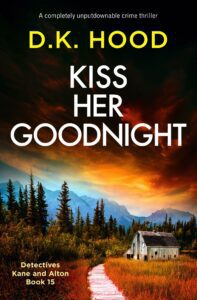 Sheriff Jenna Alton and Dave Kane are finally ready to tie the knot but their plans are in jeopardy when a woman's body is found in the town's playground. Meanwhile, other women live in terror in underground caves…
Kiss Her Goodnight is the 15th book to feature Kane and Alton.
The main plot thread started in Pray For Mercy and was a loose end that I was eager to find out what happened next. Poppy was kidnapped three months ago (in the last book) and has been held underground by a merciless killer. She attempts to use her police training to encourage opportunities for escape. But has she got the emotional strength to cope with his twisted logic?
The subplot of Jenna and Alton's wedding will appeal to fans of the series like me who have been waiting! Their wedding almost doesn't go ahead and then their honeymoon goes spectacularly wrong. There is an added tension as they negotiate their personal feelings and professional lives: it increases their vulnerability but also their resolve.
Other members of the team step up in the investigation to allow Kane and Alton some personal time. There is some forensic detail and the torture of the victims is not explicitly described which leaves it to the readers' imaginations. Poppy's character arc is interesting as I didn't like her much in the last book but now we want her to triumph over the depraved killer.
Kiss Her Goodnight is an entertaining thriller.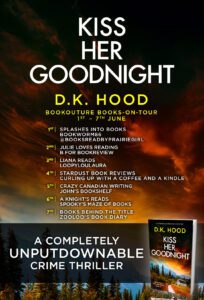 MEDIA PACK
Book: KISS HER GOODNIGHT 
Author: D.K. Hood 
Pub Day: June 1st 2022
Buy Links: 
Audible:
About the Book: 
She glances around as she locks the café door behind her. It's growing dark and the quiet street is deserted. Tired, she starts on her short walk home. She thinks she'll be safe inside within minutes, but the person watching from the shadows has other plans for her tonight…
When the body of a young woman is discovered in a local playground in the center of Black Rock Falls, Sheriff Jenna Alton and her deputy David Kane rush to the scene. Jenna recoils with horror when she sees the body, dressed in a thin nightgown, her face covered by a terrifying Halloween mask.
When the body is examined, red puncture marks are uncovered along her spine. Jenna makes a connection with a cold case where the killer tortured young women for years and was never caught. If the murderer has started killing again, Jenna knows it's only a matter of time before another body is found.
Days later, when another victim lays slumped against the fence of a local landfill site, with the same puncture wounds and macabre mask, Jenna's fears are confirmed. A serial killer is back in town and they're picking off women one by one.
Then, as a third body is found, Jenna finally gets the breakthrough she needs. Dirt found underneath the women's fingernails leads to a dangerous cave network in the mountains outside town. And once Jenna ventures into the dark, winding underground tunnels, will she find the person responsible for the deaths and take them down, or has she just walked into the killer's trap?
Fans of Lisa Regan, Melinda Leigh and Kendra Elliot will be gripped by this crime thriller from USA Today bestselling author D.K. Hood. Prepare to stay up all night!
**Each Kane and Alton book can be read as part of the series or as a standalone**


Author Bio and Social Media 
D.K. Hood is THE WALL STREET JOURNAL, USA TODAY and AMAZON bestselling author of the Detective Kane and Alton Series. Her spine chilling, fast-paced serial killer thrillers revolve around Sheriff Jenna Alton and her ex-special forces Deputy, Dave Kane. As the main characters fight crime, their secret pasts are never far away. Set in and around the fictional backwoods town of Black Rock Falls, Montana, known locally as Serial Killer Central, D.K.'s imagery takes the reader into the scenes with her. Given the title "Queen of Suspense" by her reviewers, D.K.'s writing style offers her readers a movie style, sizzling fast thrill ride.
Social Media