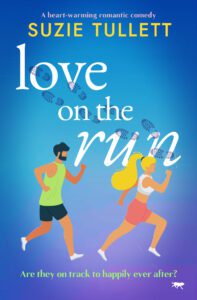 Hannah is happy running after her fifteen year old twins. But when they go on holiday with her ex for the summer she finds herself at a loose end and agrees to take part in a sponsored run for charity. Her only hope of success is personal trainer Gabe but can she run from her feelings for him…?
Love On The Run is a light hearted, fun and wonderfully warm romance set in the UK.
Hannah's journey is perhaps a little predictable but this did not stop my enjoyment at all. She is a dedicated single mum whose main focus in on her kids. To my mind, there is a serious message about staying true to yourself and ensuring that being a parent does not result in a loss of self (not easy, as every other parent will know!)
I really loved this book and could completely relate to Hannah. I was one of those kids who was useless at PE and had asthma so running was never on my radar. Hannah goes on a journey of self-discovery as she looks at her fitness as well as her personal life. Ten years ago I was a single mum and felt that I had lost my identity so I could understand Hannah's perspective.
Learning to run can be tough. I took up running in lockdown and never thought I would manage 5k but now it is easy! Hannah is utterly unprepared for the physical exertion required, and her first attempt is very amusing. However she is determined to persevere and I admired her ambition. Meanwhile her heart is also racing due to her attraction to Gabe. Viewing both perspectives, I was eager for them to find happiness together.
There is also a gentle side to the humour as emotions come to the fore. Hannah and Gabe are both struggling with overcoming their fears of a new relationship. However the most poignant part is Hannah's Aunt Dorothy mourning for her late husband which really pulled at my heart.
Love On The Run is a lovely warm novel about new chances and love.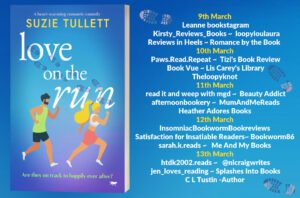 Love On the Run
With her ex and her kids away, a woman takes up running and meets a new man – but can they make it to the finish line?
Ten years after their divorce, this is the first time Hannah's ex-husband has had the kids for more than a weekend. Her calendar is gloriously blank, ready to be filled with some self-care time.
That is until Hannah's BFFs push her to join a charity race for which she'll need to start training – after all, she's not doing anything else.
And her mum nags her to have Aunt Dorothy over for a visit.
So much for me-time…
However, Hannah's not in tip-top shape, and running is a challenge to say the least. Maybe Gabe, the nice-looking personal trainer, can help with that? The more Hannah struggles, the more determined she becomes. But then Hannah is tripped up when she finds out Gabe has ashocking secret. Does this mean he'll be out of the running for a place in her heart?

Purchase Links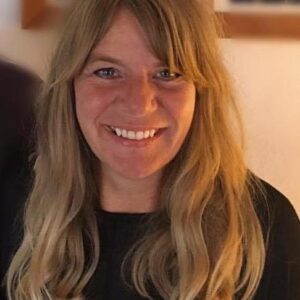 Author Bio –
Suzie Tullett is an author of contemporary humorous fiction and romantic comedy. She has a Masters Degree in Television & Radio Scriptwriting and worked as a scriptwriter before becoming a full-time novelist. When she's not busy creating her own literary masterpieces, she usually has her head in someone else's.
Suzie lives in a little Irish cottage by the sea, along with her husband and two Greek rescue dogs.
Social Media Links –