1918, war in Europe rages on. Fiona and Kitty have followed German spy Fredrick Fredricks to Italy. They are trapped in the snowy mountains with Mussolini and a murderer…
Mayhem in the Mountains is a cosy historical spy and murder mystery set during WW1. It is the third book in the Fiona Figg and Kitty Lane series and the books directly follow on from each other and include spoilers so I would advise reading them in order. I have previously read and reviewed the first two books: Chaos at Carnegie Hall and Covert in Cairo.
Fiona has been led to Italy by her nemesis Fredricks. She remains infuriated and flustered by the debonair spy. An avalanche occurs and the guests are trapped indoors. One dies from poisoning and Fiona realises that there is a murderer in their midst but who and why? Whilst keeping one eye on Fredricks, another on Kitty, she needs to find the killer but is unable to prevent a second murder.
The book is written from Fiona's first person perspective so we see her thought processes as she investigates the murder as well as her confused romantic feelings towards Archie and Fredrick. She remains unsure about how far to trust Kitty and has humorous reactions to her dog Poppy. There is more comedy from her skiing attempts 🙂
I really liked the inclusion of Mussolini. As a history graduate and knowing what happens later in his life, there were some plot twists that made my jaw drop. The author has researched his life and added details such as his first marriage to add authenticity.
Mayhem in the Mountains is an enjoyable mystery.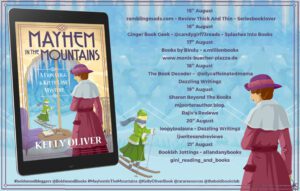 Mayhem in the Mountains
1918 Italy
When a deadly blizzard traps Fiona Figg and Kitty Lane in the Dolomite Mountains, it's all downhill from here.Their hotel is snowed-in, and no one can get in or out. Then a man is found dead in his locked hotel room – and the killer is still on the premises. But with no murder weapon and too many suspects, their investigation is treading on thin ice.
The colder it gets outside, the hotter it gets inside as Fiona squares off with both her beloved Archie and her nemesis Fredricks. With her love-life on a slippery-slope, Fiona risks everything in one bold move…
As fast and twisty as a downhill slalom, this slick new cozy from Kelly Oliver will have you melting into a puddle of laughter.
Snap in and enjoy the ride.

Author Bio –
Kelly Oliver is the award-winning, bestselling author of three mysteries series: The Jessica James Mysteries, The Pet Detective Mysteries, and the historical cozies The Fiona Figg Mysteries, set in WW1. She is also the Distinguished Professor of Philosophy at Vanderbilt University and lives in Nashville, Tennessee.
 
Social Media Links –