Merryn is set for a huge inheritance but has always been underestimated and has few friends. She has to adapt to her new position in life as well as shifting family relationships. She even considers love for the first time!
Merryn is the 5th book in the Cousins of Pemberley series. Last week I reviewed Jane, the previous book in the series. Each book works as a stand alone novel but the romantic pairs from earlier books do feature.
Merryn's Darcy/Bennet connection is a little further away in the family tree so the opening chapters include a lot of detail about the family relationships. I found myself a little confused at the start as there are several main characters whose names begin with 'R' so I wasn't clear on their role and connection.
Few fans of the original Pride and Prejudice can forget the overbearing Lady Catherine de Bourgh and her poor frail daughter Anne. Merryn is Anne's daughter and now set to inherit her grandmother's fortune. She strikes a tragic figure as an orphan and rejected by her paternal grandfather.
Our sympathies are instantly aligned with Merryn as she strives to find a place in life and adapts to her new fortune. Her long standing friendship with Jacob is innocent but his brother Ryder is well educated and offers Merryn the chance to find an intellectual equal.
Merryn is an entertaining historical romance novel and essential reading for Jane Austen fans.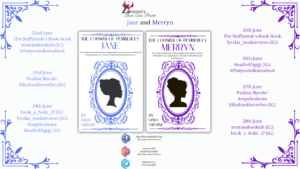 Merryn's Book Links
Book Blurb
Many years have passed since the dramatic events of Pride and Prejudice. In The Cousins of Pemberley series we follow a new generation of heroines – cousins with lives as different and interesting as those enjoyed by their mothers.
Merryn :
When a young woman is the recipient of a great fortune, her life can become difficult.
Lady Merryn Bowyer has many problems – learning how to behave in society, dealing with relatives who hate her and men who wish to marry her!
Can she learn to trust, find a way to survive, to love?
Luckily Merryn has two advantages – strength of character, inherited from her formidable grandmother, Lady Catherine de Bourgh, and a reckless, dare-devil cousin, Bennetta Darcy.

Author Bio
Fiction has always been my go-to world, a place of entertainment, excitement and imagination – I am told that I wrote my first story when I was four about a lady who had twenty children!   Sadly it has been lost for posterity.
I have been writing all my life in the time I could spare from having a "proper job", mostly for children under the name of Linda Blake, stories of ballet dancers, pony riding and talking animals!  Not all in the same book!
But my love of romance, a great tendency to say "What if..?" and the endearing characters of Jane Austen's Pride and Prejudice have now resulted in a series of books that will take the reader forward to the next generation of heroines.
I am retired, live in Kent and am a keen member of my local drama group.  Directing and acting take up a lot of my time – I have been given the onerous task of writing the Christmas pantomimes – but I still need to cope with a large garden, doing daily battle with the heron who thinks my pond is his own breakfast buffet and keeping in touch with friends and family scattered all over the world.
Linda's Links: