Alice is reunited with Luke, the son she gave away 27 years ago. He found her after having his own child. Now Luke needs to negotiate a new relationship with his birth parents and be sensitive to his adoptive mother.
Alice agrees to help out with childcare so that Luke's partner Hannah can return to work. But is her interest in her grandson as healthy as it should be…?
The narrative of Mine is divided into Luke in the present and Alice in the past. The daunting prospect of Luke's fragile relationship with his birth parents is juxtaposed with Alice's carefree love affair with a singer in a band in the 1970s.
Mine is a highly emotional book. Alice is trying to make amends and pushes all her maternal love onto her grandson but it does have sinister undertones and drives her further apart from her son. Hannah is dealing with the guilt at returning to work. Luke struggles to feel loved and accepted by bothe his birth and adoptive parents.
We read about the developing relationship between Alice and Jacob in the past with growing trepidation as we know it must end in tragedy due to the adoption. My heart was in my mouth reading the final chapter and epilogue (no spoilers!). Clare Empson's writing is so easy to relate to and tugs at the heartstrings from the first page to the last.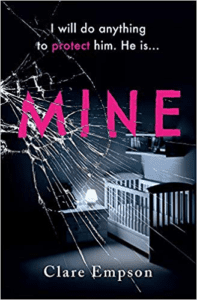 About the book:
'Who am I? Why am I here? Why did my mother give me away?'
On the surface, Luke and his girlfriend Hannah seem to have a perfect life. He's an A&R man, she's an arts correspondent and they are devoted to their new-born son Samuel.
But beneath the gloss Luke has always felt like an outsider. So when he finds his birth mother Alice, the instant connection with her is a little like falling in love.
When Hannah goes back to work, Luke asks Alice to look after their son. But Alice – fuelled with grief from when her baby was taken from her 27 years ago – starts to fall in love with Samuel. And Luke won't settle for his mother pushing him aside once again…
Clare Empson is a journalist with a background in national newspapers and has worked as a small business editor, finance correspondent and fashion at the Mail on Sunday and the Daily Express. Clare freelances for The Sunday Telegraph, The Sunday Times, the Evening Standard and Tatler amongst others. She currently works as editor/founder of experiential lifestyle website www.countrycalling.co.uk. Him is her debut novel. Her second novel Mine is an exploration of the fraught relationship between a birth mother and her adopted son set against a backdrop of a passionate love affair in the 70s.