Ursula Smart is astonished when Spear proposes to her. The pair try to avoid the angst of wedding planning by heading to Finland for a small ceremony with close family. But things do not do smoothly when the Smart women are involved!
Murder Most Cold is the 5th book in the Smart series of cosy murder mysteries. I have read and reviewed the previous book in the series, A Book of Murder.
Ursula and her dysfunctional family are quite delightful. The style of writing is a little quirky but also very personal as we witness Ursula's first person experiecnes. She is shocked to receive a marriage proposal from Spear but is hopeful for the future and the pair plan their nuptuals in Finland. Well, actually, it is their mums driving the wedding plans forward!
There is a lot of build up to the wedding and murder, both of which finally occur a third of the way into the book. The family are snowed in as the number of bodies grows while the possible suspects decrease. Options are limited but I was still kept guessing until the very end.
There are plenty of moments of humour and I enjoyed the banter between Ursula and her family. Her mum is a real tour de force and I loved her but would hate to meet her! I had to suspend my disbelief and incredulity as there were supernatural elements and confused experiences. The ending was tense and completedly unexpected.
Murder Most Cold has wedding jitters, murder, laughs and huge twists: something for everyone!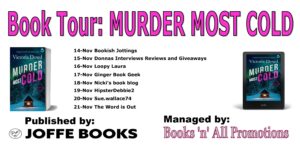 MURDER MOST COLD by Victoria Dowd
DISCOVER THE FIENDISHLY TWISTY, UTTERLY ADDICTIVE CRIME FICTION OF VICTORIA DOWD.
**FROM THE WINNER OF THE PEOPLE'S BOOK PRIZE FOR FICTION 2021 AND SHORTLISTEE OF THE CWA DAGGER AWARD 2023**
A winter wedding.
A mysterious disappearance.
A body under the ice.
Handsome Spear proposes marriage and Ursula Smart suddenly has a glimpse of the sort of happy life she had never imagined for herself. Beginning with a small winter wedding, on the edge of a secluded, frozen lake, away from it all.
But trouble is never far from the Smart women, especially when the atmosphere is already so frosty.
Tensions start rising as soon as they arrive and it's not just Ursula's mother Pandora getting cabin fever.
Poisoning. Stabbing. A mysterious disappearance. Who's targeting the wedding party?
Then on a midnight jaunt, Ursula sees a face trapped under the ice, eyes staring in frozen horror. And her happy future begins to fall apart.
Weddings should be joyous occasions. But there's a murderer at this one.
A GOLDEN AGE MURDER MYSTERY BROUGHT BANG UP TO DATE.
Funny and shocking in equal turn, Victoria Dowd's brilliant whodunnit is perfect for fans of Agatha Christie, Anthony Horowitz, Liane Moriarty, Faith Martin, Frances Lloyd and Stuart Turton.
READERS LOVE VICTORIA DOWD AND THE SMART WOMEN
'A modern take on the classic whodunnit!' Anja Jager, bestselling author of A Cold Death in Amsterdam
'Original, intriguing, great fun. Can you tell I loved it? Hugely recommended.' CWA Silver Dagger winner, Barbara Nadel
'A rip-roaring murder mystery that grabs the reader from the start.' Louise Mumford, bestselling author of Sleepless
'Witty, dark and gripping. I could read the Smart Women every second of every day and still want more.' Tim Ewins, author of We Are Animals
'A pacey, atmospheric and deliciously creepy murder mystery, laced with laugh-out-loud humour and a cast of larger-than-life characters. Loved it!' Philippa East, author of Little White Lies and Safe and Sound
'A little literary delight.' Liz W., NetGalley
ALSO BY VICTORIA DOWD
SMART WOMAN'S MYSTERY
1: THE SMART WOMAN'S GUIDE TO MURDER
2: BODY ON THE ISLAND
3: THE SUPPER CLUB MURDERS
4: A BOOK OF MURDER
5: MURDER MOST COLD

VICTORIA DOWD
After graduating from Cambridge, Victoria was a criminal law barrister on the London circuit for many years, where many of her cases were much stranger than fiction.
Victoria is now an award winning writer, having won the Go Gothic Short Story Award for 2019. She has had short fiction published in places such as Aesthetica: A Review of Contemporary Artists and was chosen as the runner up in The New Writer's writer of the year award. Her work was Highly Commended by The Writers' Forum and long-listed for The Willesden Herald International Short Story Competition. She has had short stories published in the BTS Literary and Arts Annual, Dream Catcher arts journal and Gold Dust Literary Magazine.
Victoria lives with her husband and two children. She writes full time, splitting her time between London and Devon, where she can indulge her passion for all things Agatha Christie.
FOLLOW VICTORIA ON