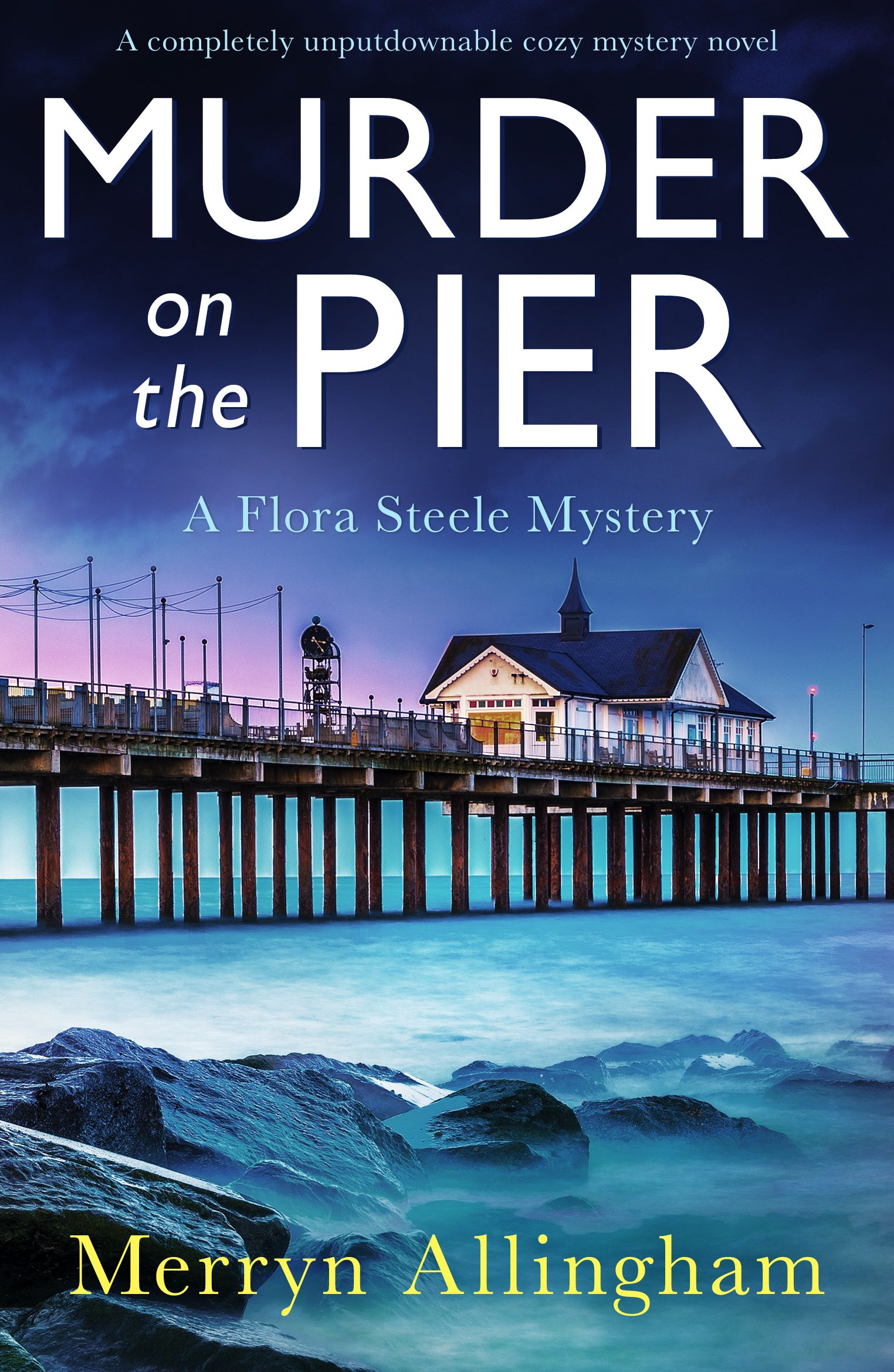 Flora Steele discovers another body but at least it isn't in her bookshop this time! Local girl Polly is found dead at the beach but did she fall from the pier or was she pushed? Flora persuades crime author Jack to help her again to discover the truth behind the death as she is sure that it is murder…
Murder on the Pier is the second book by Merryn Allingham to feature Flora and Jack. There are some mentions of events in the first book The Bookshop Murder but there are no spoilers.
Flora and Jack are a mismatched pair whose friendship teeters on something more romantic. She is much more outgoing while he is a steadying influence. Flora throws herself into the investigation which means Jack has to support and protect her as she gets closer to the killer.
The Sussex village and historical detail of the 1950s brings the setting to life. The tight knit community within the village and their distrust of newcomers comes to the fore when one of their own dies and foul play is suspected by all except the police. Meanwhile Flora is defying the social conventions of the time with her determination and independence.
There is little violence or forensic detail despite the murder plot, in keeping with the genre of cosy murder mystery. As with traditional whodunnits (such as Agatha Christie's), the focus is upon uncovering motive and weeding out truths from secretive characters.
Murder on the Pier is an enjoyable murder mystery that is cosy and I would like to see it made into a TV drama.

Book Description:
Meet Flora Steele – bookshop owner, bicycle-rider, daydreamer and amateur detective!
Sussex, 1955: When bookshop owner Flora Steele goes for a walk along the pier she isn't expecting to spot a young woman's body in the stormy waters below. And she's shocked to discover the victim is someone she knows…
Convinced the death was not an accident, Flora persuades attractive local crime writer Jack Carrington to help her find out what really happened to poor Polly Dakers, a popular young woman with a complicated love life, who'd been at the heart of village life in Abbeymead.
Jack is reluctant to get involved in another murder case at first but even he can't deny that Polly's fall seems fishy. An argument at a party, a missed hairdresser's appointment and a red woollen bobble found on the wooden boards where Polly last stood provide a trail of clues…
As they grow closer to solving the puzzling mystery, the unlikely pair stumble upon several surprising secrets about those closest to Polly. A number of potential suspects begin to emerge. But who really disliked Polly enough to kill her? Was it Raymond, her jilted first love? Harry, her latest beau? Or Evelyn, Harry's jealous estranged wife?
As the investigation brings them closer to the truth, Flora is intent on unmasking the killer – but will her stealthy sleuthing lead her down a dangerous path?
An utterly delightful cozy crime novel set in the fictional Sussex village of Abbeymead. Perfect for fans of Agatha Christie, Faith Martin and Joy Ellis!
Author Bio:
Merryn taught university literature for many years, and it took a while to pluck up the courage to begin writing herself. Bringing the past to life is a passion and her historical fiction includes Regency romances, wartime sagas and timeslip novels, all of which have a mystery at their heart. As the books have grown darker, it was only a matter of time before she plunged into crime with a cosy crime series set in rural Sussex against the fascinating backdrop of the 1950s.
Merryn lives in a beautiful old town in Sussex with her husband and one last cat, Bluebell. When she's not writing, she tries to keep fit with adult ballet classes and plenty of walking.
Buy Link:
Audio Links: