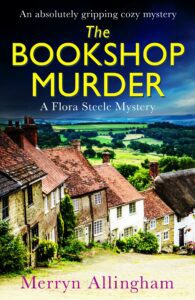 1955 and rationing has only just ended. Flora Steele has inherited her aunt's bookshop but books are still a luxury few are buying. The last thing she needs is the notoriety when a man breaks in and dies in the shop! Flora is determined to discover why this man broke in and cajoles local crime writer Jack Carrington to assist her.
The Bookshop Murder is the first book in a new cosy crime and murder mystery series from Merryn Allingham. I have not read any of this author's previous books (but have now downloaded one!)
Flora hasn't had an easy life, losing both her parents and caring for her aunt during her final illness. Now she is struggling to keep the bookshop going, has no friends and is worried she'll never find a husband. Shje is fully involved in village life and we see many interactions with other villagers over the course of the book.
Jack is a quieter character. He is quite a recluse, happy to hide away from the world. His involvement in the investigation goes against his natural instincts but he has a kind heart and wants to help Flora to restore the reputation of her bookshop.
The murder element is not described in great detail as you would expect from this genre. The mystery of the young man's death is intriguing and maintained my interest through the book, but his is not the only sudden death…
The Bookshop Murder is an enjoyable cosy murder mystery and I look forward to meeting Flora again in the next book.

The Bookshop Murder book description:
Join Flora Steele – bookshop owner, bicycle-rider, day dreamer and amateur detective as she tackles her first case!
Sussex, 1955: When Flora Steele opens up her bookshop one morning she's in for the surprise of her life! Because there, amongst her bookcases, is the body of a young man, with a shock of white-blond hair. But who was he? And how did he come to be there?
Determined to save her beloved bookshop's reputation and solve the baffling mystery, Flora enlists the help of handsome and brooding Jack Carrington: crime writer, recluse and her most reliable customer.
The unlikely duo set about investigating the extraordinary case, following a lead across the sleepy village of Abbeymead to The Priory Hotel. When the hotel's gardener dies suddenly, and they find out their victim was staying there, Flora's suspicions are raised.
Are the two deaths connected? Is someone at the hotel responsible – the nervous cook, the money-obsessed receptionist, or the formidable manageress?
As the trail of clues takes Flora and Jack all over the village it becomes clear there's more than one person hiding secrets in Abbeymead…
But does Flora have what it takes to uncover the truth – or will her amateur sleuthing put her in harm's way?
Love Agatha Christie, Midsomer Murders and T E Kinsey? Then this brand-new cozy crime series featuring bookshop owner Flora Steele is just what you need!
Author Bio:
Merryn taught university literature for many years, and it took a while to pluck up the courage to begin writing herself. Bringing the past to life is a passion and her historical fiction includes Regency romances, wartime sagas and timeslip novels, all of which have a mystery at their heart. As the books have grown darker, it was only a matter of time before she plunged into crime with a cosy crime series set in rural Sussex against the fascinating backdrop of the 1950s.
Merryn lives in a beautiful old town in Sussex with her husband. When she's not writing, she tries to keep fit with adult ballet classes and plenty of walking.
Buy Link: