Female detectives Maud and Daisy have a new case as members of a choir start to turn up dead. All the deaths seem to be natural causes but, when the ladies receive an anonymous letter, they are convinced that there is a murderer on the loose…
Mystery in the Highlands is the third book to feature Maud and Daisy as they solve crimes in Scotland in the 1910s. I have previously read and reviewed the first two books in the series (The Scottish Ladies' Detective Agency and Murder in the Scottish Hills). There are spoilers so I would advise reading the books in order.
Two deaths of reasonably young and healthy people but neither has been identified as suspicious by the authorities. Clara asks her cousin Daisy to investigate as she is sure that there is a link to the choir and its upcoming competition. Maud and Daisy arrive in the village but are unable to prevent the next death despite getting a letter from the killer. Another letter arrives and the duo urgently need to solve the clues and save a life.
There is plenty of mystery and urgency as the detective pair try to prevent any more deaths and identify the suspects and motives. Although there are multiple deaths, there is no graphic or forensic detail about the bodies. I also enjoyed the touches of humour that keep the tone light, such as ladies riding bikes and disguising themselves. Maud's tense relationship with Lord Urquhart is once again tested when he appears at the scene of the third death.
Mystery in the Highlands is an enjoyable historical cosy murder mystery.

Book Description:
When members of a choir start dropping dead in the Highlands, Maud McIntyre and her lady's maid Daisy go undercover to discover the inharmonious culprit. But will they uncover the killer before another murder takes place?
Edinburgh, 1911: When Maud and Daisy receive a letter from Daisy's cousin, Clara, sharing her fears that two sudden deaths in her local choir weren't accidental, at first Daisy thinks her cousin is overreacting. But Maud's detective senses tell her something is afoot, and so they make haste to the Highlands to investigate.
As soon as they arrive, Maud and Daisy go undercover in the choir to find potential suspects. But with one murder deemed a heart attack, and the other declared an unfortunate drowning, Maud and Daisy have their work cut out when it comes to persuading the local police that perhaps the choir isn't as perfectly in tune as everyone thinks…
But finally they receive a clue in the form of an anonymous letter. Enclosed is a rhyme which they're certain holds the key to the next murder…
With the clock ticking down to another death, they know they can't miss a beat – but will Maud and Daisy solve the mysterious rhyming verse before another singer is silenced, or will this case lead to their own untimely swan song?
A gripping and unputdownable historical whodunnit, perfect for fans of the mysteries of Helena Dixon, Verity Bright, T.E. Kinsey and Catherine Coles.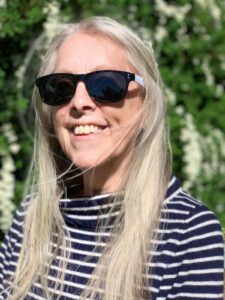 Author Bio:
Lydia Travers was born in London.  She moved progressively north until settling with her husband in a village on the edge of the Scottish Highlands. She has raised children, bred dogs and kept chickens; and for as long as she can remember has written for pleasure. A former legal academic and practitioner with a PhD in criminology, she now runs self-catering holiday accommodation, sings in a local choir and is walked daily by the family dog.
Lydia also writes as Linda Tyler and her first novel under that name, Revenge of the Spanish Princess, won a 2018 Romance Writers of America competition for the beginning of an historical romance. Her second novel The Laird's Secret was Commended in the 2021 Scottish Association of Writers' Pitlochry Quaich competition for the beginning of a romantic novel. Mischief in Midlothian won the 2022 Scottish Association of Writers' Constable Silver Stag trophy. She has had a number of short stories published in magazines, journals and anthologies in the UK, the USA and Australia.
Buy Link:
You can sign up for all the best Bookouture deals you'll love at: http://ow.ly/Fkiz30lnzdo