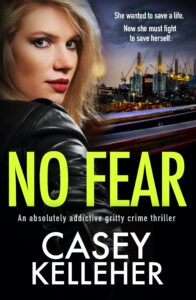 TRIGGER WARNING: this book deals with domestic abuse
Lucy Murphy, a police officer, is still haunted by the brutal murder of her mother and the face of the killer. She has the more pressing concern of her grandmother's dementia and is struggling to stay focussed as the body of a gang crime member is discovered.
Debra Jennings is regularly beaten by her abusive gangster husband Gerard. But one night he goes too far…
No Fear is the sequel to the excellent No Escape. The Griffin Estate continues to be a source of brutality, crime and violence that leads to murders. I was instantly drawn back into the world of big personalities and high drama.
The emotional aspect of Debra's abuse is really heartbreaking and I was anxious for her to escape Gerard's clutches but fearful about the consequences. The danger and tension are well described and believable and it was easy to empathise with her character and feel revulsion towards her husband.
The grittiness and realism of the plot is completely compelling, as is the determination of Lucy to strive to do her best in both her career and personal life. I am hoping for another sequel as I wonder if Lucy's character will be further developed and possibly even discover the identity of her mother's killer.
Overall, No Fear is a really enjoyable book to read despite the nasty side to the plot and characters.
MEDIA PACK Info Sheet
Author:     Casey Kelleher
Book:                   NO FEAR
Publication Day:  Oct 6th 2020
Description:
She wanted to save a life. Now she must fight to save herself.
When DC Lucy Murphy meets Debra, wife of feared drug dealer Gerard Jennings, she sees a young woman in urgent need of help. Brutalised by her husband, Debra is too terrified to tell the police what she knows. But Lucy is determined to bring Gerard down – for Debra's sake, and the safety of the Griffin Estate.
Meanwhile, after the death of one of his drug runners, Gerard is under pressure from his bosses to prove he's still up to the job. Facing threats of violence as well as police interest, Gerard is getting desperate – and desperate men are the most dangerous of all.
As Lucy prepares to go undercover in Gerard's gang to get the evidence she needs to arrest him, her beloved grandmother Winnie starts acting strangely. She mentions a man visiting her at night in her care home, but that makes no sense – does it?
Any distraction could prove deadly for Lucy and the people she's trying to protect. But she has backed a vicious man into a corner, and he'll stop at nothing to get what he wants.
A gritty, shocking, action-packed thriller that will have you on the edge of your seat until the very last page. Fans of Martina Cole, Kimberley Chambers and Jessie Keane will love this.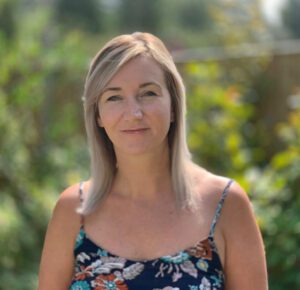 Author Bio:
Born in Cuckfield, West Sussex, Casey Kelleher grew up as an avid reader and a huge fan of author Martina Cole.
Whilst working as a beauty therapist and bringing up her three children together with her husband, Casey penned her debut novel Rotten to the Core. Its success meant that she could give up her day job and concentrate on writing full time.
For all news and updates:
Twitter: @caseykelleher